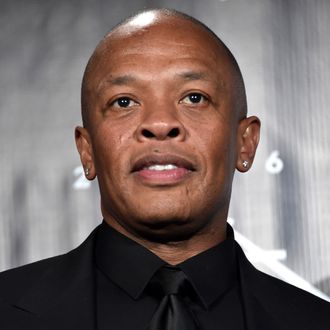 Dr. Dre.
Photo: Mike Coppola/Getty Images
However weird your Monday was, it probably wasn't as weird as Dr. Dre's: The Los Angeles Times reports that the music legend was placed under citizen's arrest by a man who had parked in front of Dre's Malibu home Monday morning. According to the man's 911 call, he was stopped in front of the driveway when Dre "ordered him to leave and produced a handgun"; when the police arrived, the former NWA member was handcuffed and issued a citation. Police say Dre denied pulling a gun and consented to a search, which found no firearms. The rapper reportedly claimed the man had parked in front of his driveway multiple times after following him home from a tense incident on the freeway. Basically, never move to L.A.
Update: On Thursday, Los Angeles prosecutors announced that Dre won't be charged in the matter, citing a lack of evidence.