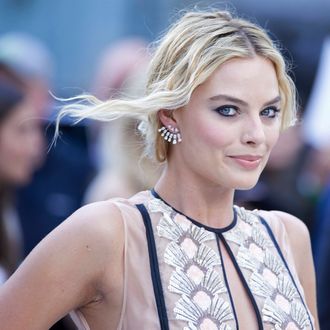 Margot Robbie at the premiere of Tarzan.
Photo: NIKLAS HALLE'N/This content is subject to copyright.
Everything's coming up Margot! As the Australian actress does the final press rounds for Suicide Squad, which opens August 5, she will have a little more to talk about now that she's set to star in and produce an adaptation of Matt Ruff's 2007 book Bad Monkeys. Robbie will play the role of Jane Charlotte, a woman who gets tossed into the psychiatric wing of a jail after being arrested for murder and telling the police she's actually part of an evil-quashing organization called the Department for the Final Disposition of Irredeemable Persons. For short, they go by "Bad Monkeys." The cops don't buy Jane's yarn, and the story becomes a psychological thriller that forces viewers to sort out whether she's lying, crazy, or executing some kind of greater plan from behind bars. This is just the most recent film brought under the banner of Robbie's production company, LuckyChap Entertainment, which is also developing I, Tonya, the story of disgraced Olympic ice skater Tonya Harding, and the noir thriller Terminal. Robbie is set to star in both — just as God intended.