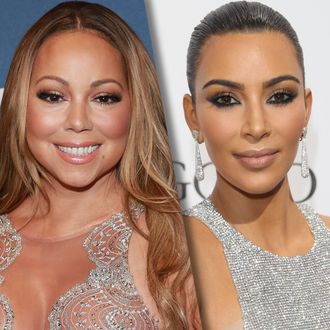 She knows her.
Photo: Getty Images
As the premiere of Mariah Carey's first-ever surreality show edges closer to being the TV event of the century, she's already gearing up to vanquish the competition. Victim No. 1: the Kardashian empire. Once upon a time, Mariah claimed to have no knowledge of the woman formerly known as her ex-husband Nick Cannon's arm candy. "Honestly, my wife, she don't even know who Kim Kardashian is. She doesn't pay attention to that," Cannon told Howard Stern in an attempt to escape the doghouse. But dahhhling, that was years before Mariah and Kim both worked for E! – now, according to Complex, there's a high chance she's up to speed. Get that fluorescent lighting out of your eyes and have a seat beneath Mariah's shade tree:
"But it [her show] won't be, according to Carey, a put-it-all-out-there show in the style of the Kardashian clan— who are, coincidentally, filming something in a private dining room 15 yards away.

"Some of us," Carey says, casting a glance toward the room, "talk about other people and what they do and la la la. But I'm not that person."
You mean, this glance?