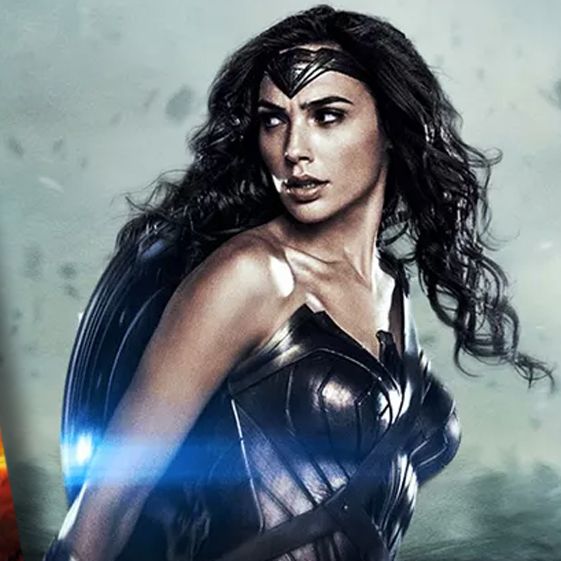 For all the superhero-on-superhero fights we've watched this year — in films like Batman v Superman: Dawn of Justice and Captain America: Civil War — there's one comic-book title bout that still takes the cake, and that's Marvel vs. DC. In one corner, we have seemingly bulletproof Marvel Studios, putting out one hit after another and showing Hollywood how a shared cinematic universe is done; in the other, the fledgling DC unit is leveraging some the most famous comic-book characters ever created, for an interconnected franchise that's just getting off the ground. Both superhero juggernauts came to Comic-Con today, for the two most anticipated movie panels of the weekend. How did they fare when it comes to the measurements that matter most?
New Trailers
During today's Warner Bros. presentation of DC movies, the studio showed off a pretty great Wonder Woman trailer, as well as a surprisingly full-fledged Justice League teaser, given that Zack Snyder's film is still shooting. Both clips went heavy on the DC Universe's newly prioritized sense of humor, to great effect: Wonder Woman's feminist certainty sets up an endearing culture clash with World War I pilot Steve Trevor (Chris Pine), while it's nice to see that Justice League gives Ben Affleck's Batman more notes to play besides "glowering," especially now that a winning Ezra Miller has been added to the mix as the wisecracking Flash. Both those trailers are now online, as is a capable but superfluous new teaser from the heavily advertised Suicide Squad.
If you wanted to see Marvel's major clips, though, you had to be at Comic-Con. The studio put its new Doctor Strange trailer online, but in Hall H, they also showed a key sequence from the film in which Benedict Cumberbatch's title character meets the Ancient One (Tilda Swinton), who judo-chops the arrogant doc's spirit straight out of his body. We also saw, early on, intriguing teasers for Thor: Ragnarok (in which Mark Ruffalo's Hulk dons gladiator armor, Cate Blanchett's villainous Hela wears an antler couture, and Chris Hemsworth's Thor gets a radical, new shaved-sides haircut) and Spider-Man: Homecoming, which mostly eschewed special-effect sequences to give us an appealing sense of the high-school life of Peter Parker (Tom Holland). But the trailer that had everybody rolling was Marvel's tease for Guardians of the Galaxy Vol. 2, which reunites the whole team for a new, colorful adventure, and even more jokes at each other's expense. My favorite? When Rocket (voiced by Bradley Cooper) takes offense at being called a raccoon, so Star-Lord (Chris Pratt) instead dubs him a "trash panda." (Plus, Baby Groot is back, and somehow the little tree-being is more adorable than ever.)
Big Surprises
While DC had nothing new to offer on this front, Marvel threw some casting curveballs, including the addition of The Walking Dead's Danai Gurira to Ryan Coogler's Black Panther. She'll play the head of T'Challa's elite unit of female bodyguards known as the Dora Milaje, while co-stars Lupita Nyong'o and Michael B. Jordan were announced as Nakia and the villainous Killmonger, respectively. The biggest Marvel shocker? Yes, as predicted, Kurt Russell is playing Star-Lord's dad in Guardians of the Galaxy Vol. 2, but director James Gunn has scrambled Star-Lord's origin story and given him a peculiar new pop: Russell's character is Ego the Living Planet, one of Marvel's most unusual characters. Out of simple curiosity, this living, breathing planet has taken on a human form; filterless Drax (Dave Bautista) immediately asks Ego what sort of genitalia he's crafted, much to Star-Lord's chagrin. That Gunn would pull Ego the Living Planet into his franchise signals that he's not done living dangerously with Guardians just because the first one was such an unexpected hit.
Cast Chemistry
While Justice League has been putting together its group over three films now, David Ayer's Suicide Squad comes fully stocked right out of the gate, and it's impressive just how much his sprawling cast seems to be on the same page. When Will Smith, Margot Robbie, and their cohort took the stage in Hall H, they delighted in ribbing one another, and never more than when describing the antics of Jared Leto, whose Joker-style gifts for the rest of the cast have become infamous. The Oscar-winning actor sent Robbie a dead rat from "Mr. J," and recounting the incident, Smith laughed, "If I had had pearls on, I would have clutched them!" Ayer has said that he'd love to spin off several characters from the movie's extensive cast, and it will be ironic if this baddie take on the Justice League ends up outdoing the more clean-cut crew.
Meanwhile, Marvel is doing something unique with Spider-Man: Homecoming by treating it almost as a teen-ensemble comedy, which makes the spliced strands of superhero DNA all the more enticing. Director Jon Watts has surrounded Tom Holland with a murderers' row of standout young actors, including Zendaya (whose smart, under-the-radar burnout may end up Peter's love interest), Tony Revolori (The Grand Budapest Hotel), Angourie Rice (The Nice Guys), and Michael Barbieri (Little Men). The teaser explores Peter's teenage world so appealingly, that it's startling at the very end when Michael Keaton's winged Vulture appears, raining down death. The last few screen iterations of Spider-Man have rushed Peter out of high school and given him awfully few friends to bounce off of, so let's hope that Marvel's more measured approach will give us a great new take on the hero and better integrate his supporting cast.
Diversity
When it comes to diversity behind the camera, DC has done the most in a very short time. The DC panel opened with a directors summit that included helmers James Wan (Aquaman), Rick Famuyiwa (The Flash), and Patty Jenkins (Wonder Woman), while it's taken Marvel 17 films to hire its first nonwhite director (that would be Taika Waititi, who's in production on Thor: Ragnarok). The studio still hasn't made a movie with a female director or sole female lead, though they're intending to accomplish both feats with 2019's Captain Marvel.
DC will beat Marvel there when Wonder Woman debuts next year, but the studio behind Iron Man and Captain America has still made encouraging progress when it comes to diversifying its casts. Guardians of the Galaxy Vol. 2, Spider-Man: Homecoming, Thor: Ragnarok, and Black Panther have all cast black women in the love-interest roles (none of whom will be shrinking violets). The black excellence on display was striking when Ryan Coogler brought Chadwick Boseman, Lupita Nyong'o, Michael B. Jordan, and Danai Gurira to Hall H to tout Black Panther. While more work needs to be done — casting Tilda Swinton as Doctor Strange's traditionally Asian character, the Ancient One, has proved more controversial than studio chief Kevin Feige anticipated, and Marvel still lacks any sort of gay character on the big screen — at least progress is coming, in fits and starts.
Future Teases
I'm surprised that the DC panel didn't mention Margot Robbie's rumored Suicide Squad spin-off, which would surround her breakout character Harley Quinn with other comic-book femme fatales. DC made no new film announcements and, like last year, teased future installments like Cyborg and Green Lantern Corps in name only. Are they playing it safe for now, waiting for Suicide Squad and Wonder Woman to open before deciding where to put their resources next?
Over at Marvel, Feige brought out Brie Larson at the very end of the panel to confirm her rumored casting as Captain Marvel, but he didn't announce a director for the film, which would have been real news. He also neglected to talk about the next two Avengers movies, which will concern a space-spanning Infinity War, or to bring out Comic-Con stalwarts like Robert Downey Jr. (who's in Spider-Man: Homecoming) and Tom Hiddleston (who was on hand at Comic-Con today promoting Kong: Skull Island) to work the crowd. And maybe he didn't need to. Marvel still slayed, having built up real good will with this crowd, which DC will now try to match. Will a blockbuster-in-waiting like Suicide Squad tip the scales? For now, Marvel retains its edge in this contest, but check back next year — because like any good comic-book story line, this one is to be continued.