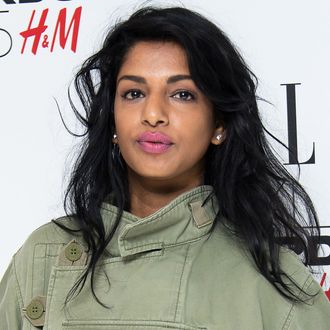 M.I.A. is pissed.
Photo: Ian Gavan/Getty Images
In a repeat of 2015, the VMAs have once again made an enemy out of some of music's biggest names. Shortly after this year's nominations were announced, Nick Jonas let out his complicated emotions over "Close" being snubbed, tweeting, "Disappointed with the fact 'Close' got no love," before admitting he was already over it. Phew! M.I.A.'s gripes with the show, however, run a tad bit deeper. She has accused MTV of "racism, sexism, classism, and elitism," arguing that her powerfully political video for last year's "Borders" — which M.I.A. directed — should've been nominated. She claims that MTV's biggest music-awards show ignores "world" artists, instead giving preference to "major U.S. artists" like Video of the Year nominees Kanye West and Beyoncé. (Though, ironically, international artists dominate that category this year.)
Her concerns echo Nicki Minaj's tweets from last year accusing MTV of racial bias, which infamously sparked a feud between Nicki and Taylor Swift — and later, at the show itself, Miley Cyrus. So, whose opening performance will MTV get M.I.A. and Nick Jonas to crash this year to diffuse the situation? Let the betting begin!