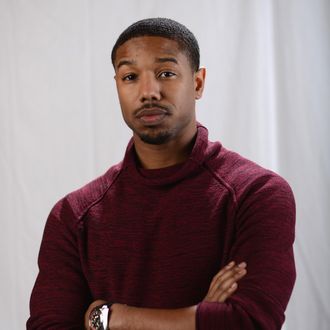 Photo: Michael Buckner/2013 Getty Images
In response to the deaths of police-shooting victims Alton Sterling and Philando Castile, Michael B. Jordan (who portrayed police-brutality victim Oscar Grant III in 2013's Fruitvale Station) took to Instagram to write a powerfully moving post on the matter.
"The fact is Alton Sterling and Philando Castile were not unfortunate accidents," Jordan wrote. "These are just a few of the countless incidents of the violent neglect, poor training, and lack of accountability that clearly illustrate one thing: Black people are being [disproportionately] dehumanized and murdered, this must stop!"
Later in the post, Jordan emphasizes what a deeply personal issue this is for him.
"This hits close to home. It could have easily been myself, my little brother, my dad, one of my friends, or any of us. When one of us is murdered because a police officer is 'afraid for their life,' it pains us — we feel it. In the wake of these senseless murders, our homes are forever broken …"
Jordan goes on to insist that "violence is not the answer; it only begets more fear and violence. This is the time to unify, our communities, our churches, and our homes … change will take all of us, we can no longer say or do … nothing."
Jordan's full post can be read here.