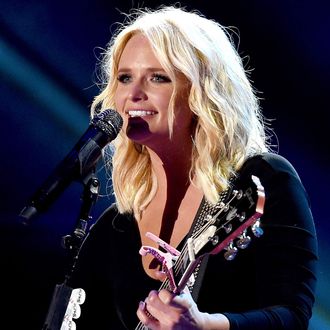 Everything hurts.
Photo: Rick Diamond/2016 Getty Images
We're betting that in the next few months Miranda Lambert will release a follow-up album to her 2014 stunner, Platinum. It'll be her first since divorcing Blake Shelton, her husband of four years, and an opportunity to address the narrative that's hung over her head in the time since. Back in May, Shelton had his own chance with his latest LP, If I'm Honest, gunning for revenge on icy ballads like "Came Here to Forget." Shockingly, on her new song "Vice," Lambert isn't looking to erase the past; she's fighting not to repeat it. "Maybe I'm addicted to good-byes," she reflects on the slow-burning, rock-heavy ballad, laying all blame on herself for what she perceives as self-sabotage. And when the soul-searching leaves little resolution, she ends right back where she started: "Standing at the sink now, looking at the mirror / Don't know where I am or how I got here / Well the only thing that I know how to find is another vice." 
"Vice" is of a piece with Lambert's distinctly introspective lyricism — even for country — but the scope extends to what's also been said and written about her post-divorce. It's no "Blank Space," but it's impossible to overlook the snarling clapback in "If you need me, I'll be where my reputation don't proceed me" and, later, "Another town, where my past can't run me down." In other words: Judge Lambert all you want, but don't be surprised if she's already smashed her own reflection in the mirror with the gavel first.