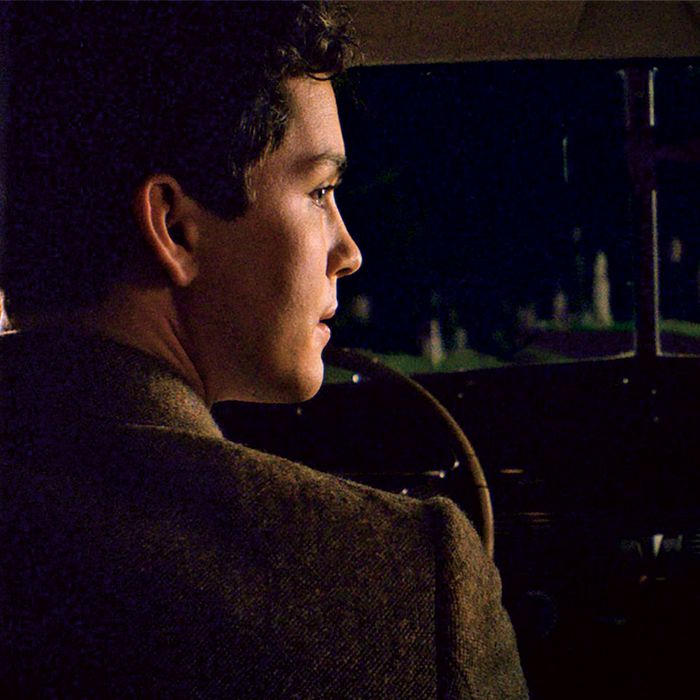 Logan Lerman and Sarah Gadon in Indignation.
Philip Roth's 2008 novel Indignation opens with lines from e.e. cummings's "i sing of Olaf glad and big," which celebrates a conscientious objector who refuses to go to war: "Olaf (upon what were once knees) / does almost ceaselessly repeat / 'there is some shit I will not eat.' " Marcus Messner, the Newark-raised hero of Roth's novel and James Schamus's intense new film, takes a similarly valiant stand against coprophagy. As one of the few Jewish freshmen in the class of 1955 at (the fictional) Winesburg College in Ohio, Marcus (Logan Lerman) strives to throw off the weight of multiple patriarchs: his crazily overprotective father (Danny Burstein), a kosher butcher; the school's censorious dean (Tracy Letts); and, perhaps, God Himself. This is the stuff of most coming-of-age sagas, comic and tragic, and Roth, of course, made his name with the former. Indignation is on the other end. In the film's prologue, our rebel takes a bayonet in the stomach in Korea — and ruminates in voice-over on how a nice Jewish boy could have made such catastrophic choices.
He doesn't call them catastrophic, and, objectively speaking, they shouldn't be, but this is the '50s, and Winesburg — the name is an homage to Sherwood Anderson — is not a place where Marcus can bury his legacy. What gets him in trouble is how hard he tries. As an atheist, he stews over the injustice of the school's demand for chapel attendance. The pastoral Winesburg is as far as he can get from his native culture. He shrugs off an invitation from the lone Jewish fraternity and falls for a beautiful, blonde Wasp named Olivia Hutton (Sarah Gadon). It's a bit of a surprise that she's drawn to him, too, and a bigger one when she turns out to be more sexually forward than her era or pedigree would suggest. Marcus the virgin is gobsmacked.
Schamus's style is deliberate but not cold, and the performances he has elicited are passionately deliberate. Lerman — who seemed like a colorless juvenile in those meh Percy Jackson films — turns out to have a gift for thinking out loud. In Indignation, he speaks with few contractions, but the effect isn't robotic. Marcus needs to weigh every word to keep his emotions in check, and to forge an identity that's miles away from his nakedly desperate father. The scenes between Marcus and Olivia — their first date is at a fancy French restaurant, where she coerces him to sample escargot — are both remarkably tender and remarkably fraught. Gadon, a Canadian actress who appeared in the last three David Cronenberg films, is transfixing. Olivia is profoundly damaged (there are scars on her wrists) but she, too, speaks with a degree of control that barely contains her longing for connection.
Even those scenes pale beside the movie's grueling centerpiece, in which Marcus is summoned to meet Dean Caudwell and finds himself literally — and, folks, I'm not misusing that word — fighting to hold his insides together. If you've seen Letts's plays or were lucky enough to catch his George in the most recent Who's Afraid of Virginia Woolf? revival, you know he's a master of characters who inflict maximum psychic damage. Caudwell is the embodiment of right-wing, Christian authority and its penchant for hypocrisy (the charge against Marcus is a refusal to compromise), and Marcus's attempts to assert religious and philosophical independence only tighten his own noose. Caudwell leaves Marcus in ruins while barely raising his voice. Dean Wormer would drool with envy.
Is there a better Roth adaptation? It's not close — although, to be fair, Indignation is unusually manageable and Schamus has cut many complicating strands, especially scenes with Marcus's gay roommate and a tumultuous panty raid. His additions are oddities, like the mental-hospital wallpaper that opens and closes the film. (Is it a nod to The Yellow Wallpaper?) Where Schamus shows his mastery is in twosomes, in Lerman's scenes with Pico Alexander, who makes much of a small role as a handsome Jewish frat boy, and the formidable Linda Emond, whose emotional blackmail is chilling. (Fun fact: Emond played opposite Burstein — her husband here — in the Cabaret revival.) Schamus is the former head of Focus Features, and seeing how he directs (this is his debut, though he has been Ang Lee's collaborator for decades), I suspect he chose the company's name. His vision is 20/20 plus.
*This article appears in the July 25, 2016 issue of New York Magazine.