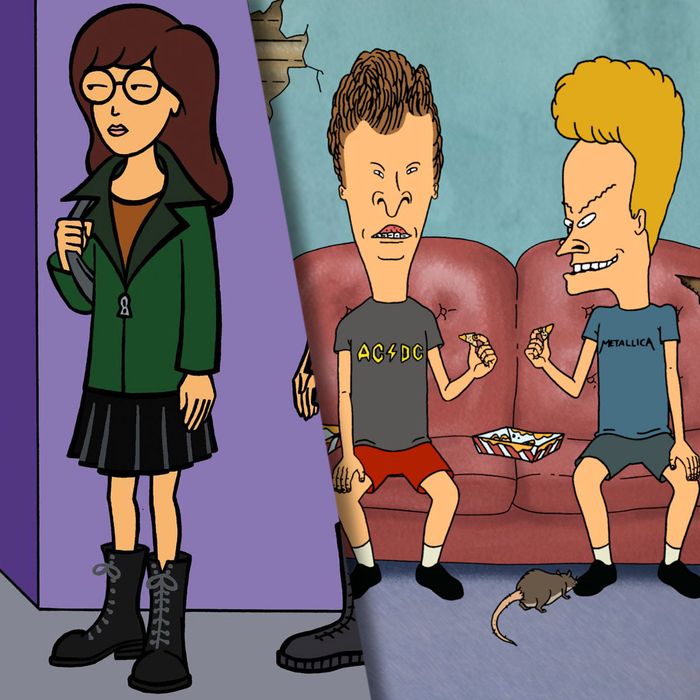 Just in time for #TBT.
Photo: MTV
If you're over 40 and you want your MTV the way it used to be, well, get over it: Time travel isn't real (yet), and the days of MTV playing nothing but music videos interspersed with Kurt Loder and Tabitha Soren news updates aren't coming back. However, if you're over the age of 30 and you yearn for the days when MTV still played a medium amount of music videos — plus series like Daria, Wonder Showzen, MTV Cribs, Beavis and Butt-head, Laguna Beach, and Clone High —  well, then, rejoice! Starting Monday, the network currently known as VH1 Classic will be transformed into a 1990s and early aughts channel known as … MTV Classic. In other words, every millennial's #TBT Twitter feed is about to become a TV channel.
According to Erik Flannigan, MTV's executive vice-president of music and events strategy and development, the channel is in part an outgrowth of what's being called the MTV Vault project, a five-year effort "to digitize all the key assets from our last 35 years, [originally] recorded on over 1 million physical tapes," he says. "Much of the programming that airs on MTV Classic came from this project, and the channel will continue to provide a showcase for newly restored vault content," Flannigan said. In addition, MTV execs wanted to evolve VH1 Classic to reflect changing pop-culture tastes and to take advantage of younger Gen Xer and millennial obsession with the recent past. "There is unprecedented passion for nostalgia expressed all over social media — Throwback Thursday, YouTube, and many linear channels," the exec says. And because "so much great content from MTV's past has gone unseen on any platform for years," Flannigan explained, "the timing seemed right to bring the best of it back to life in a new context."
So what will audiences see? On launch day — which also happens to mark the 35th anniversary of MTV's August 1, 1981, premiere — MTV Classic will kick off by airing the very first hour of MTV as first seen during the Reagan administration. Monday's schedule will also include a marathon of MTV Unplugged episodes (including Nirvana and Oasis), a Total Request Live documentary, and a prime-time animation block featuring Beavis, Daria, and Aeon Flux. MTV Classic plans to have theme nights of prime-time programming built around the aforementioned series, as well as Pimp My Ride, Jackass, and Run's House. There will also be decade-specific video blocks during the day, concert specials, and movies, while weekends will feature marathons of various series. First up: season one of The Real World on Sunday, August 7.
MTV Networks has used the MTV Classic branding in other parts of the world, including the U.K. But Flannigan says the American channel will be "more a reimagination of VH1 Classic than an import" of the international network. He also cautioned against expecting rebroadcasts of, say, MTV News or original VJ blocks with, say, Dave Holmes, "Downtown" Julie Brown, or original VJ Martha Quinn. "The channel is less likely to take you back to a specific moment in time, like a countdown or newscast from one day or one week," Flannigan says.  "But we could use programming like that for key moments in history." Still, as part of the MTV Vault project, there could yet be new life for some of those old  hours. "Beyond linear, we are exploring digital, documentary, and other opportunities to leverage content from the vault, so much of which has never been seen in full," he says. MTV Classic will also boast an on-air look with echoes of past eras of the network. Promos and interstitials will "blend old and new, so you will see elements of our original creative but in, for lack of a better term, remixed fashion," Flannigan says.