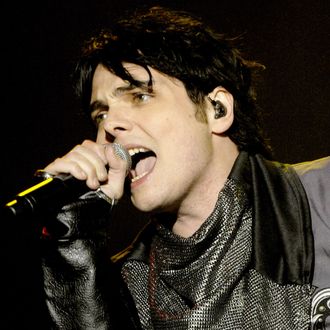 And our hearts bleed on.
Photo: Tim Mosenfelder/Getty Images
Now come one, come all to this tragic affair: My Chemical Romance are not, in fact, getting back together after all. Yesterday, the band sent fans running to their nearest Hot Topic after a cryptic tweet and new logo implied something big was coming to celebrate the tenth anniversary of The Black Parade, with a video teasing the date September 23, 2016. It's the first time MCR had tweeted in over a year, ending the deafening silence (except to still promote their merch, of course) since the band officially broke up in 2013. What could it mean? Naturally, fans jumped the gun and concluded it must be the quickest reunion since LCD Soundsystem's. Alas, we've all been bamboozled. In a new statement, MCR have thanked fans for their continued undying devotion, but clarified that they are not reuniting, touring, or doing much of anything, really. All the fuss was to announce that they're simply reissuing The Black Parade, reportedly with unreleased demos. Ugh, famous last words indeed.