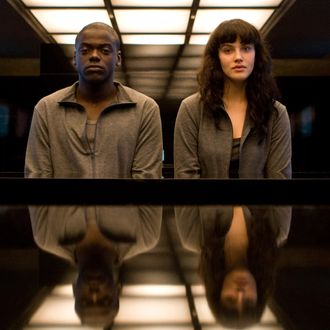 The future is almost here.
Photo: Giles Keyte/Channel 4
The future is coming this October. On October 21, to be precise, when Netflix unveils the third season of Black Mirror. Created and written by Charlie Brooker, as always, the next installment of the anthology series includes six new episodes: "San Junipero," which stars Gugu Mbatha-Raw and Mackenzie Davis and will be directed by Owen Harris; "Shut Up and Dance," with Jerome Flynn and Alex Lawther, directed by James Watkins; "Nosedive," with Bryce Dallas Howard, Alice Eve, and James Norton, directed by Joe Wright; "Men Against Fire," with Michael Kelly, Malachi Kirby, and Madeline Brewer, directed by Jakob Verbruggen; "Hated in the Nation," with Kelly MacDonald, directed by James Hawes; and "Playtest," with Wyatt Russell and Hannah John-Kamen, directed by Dan Trachtenberg. Each one will show us new ways that technology can be scary and bad.
Because Netflix has never met a holiday weekend it didn't want to use to release content, the service will release Chef's Table: France on September 2, just in time for Labor Day. That installment, the third in the series, will spotlight Alain Passard of L'Arpege, Michel Troisgros of Maison Troisgros, and Alexandre Couillon of La Marine. No word on why the rat from Ratatouille was left off the list.
On September 22, Netflix will get mumblecore with Easy, Joe Swanberg's eight-episode anthology series about people looking for love in Chicago. It has recruited Orlando Bloom, Malin Ackerman, Jake Johnson, Marc Maron, Dave Franco, Hannibal Buress, Emily Ratajkowski, Michael Chernus, Gugu Mbatha-Raw, Aya Cash, Jane Adams, Elizabeth Reaser, Evan Jonigkeit and, somehow, "more."
Season two of Ashton Kutcher's The Ranch premieres on October 7. It's not that bad. No, really!
Netflix's animated, Beatles-inspired kids' series Beat Bugs returns for a second season on November 18, just in time to sedate small children for holiday travel.
Doug Liman and Simon and Jonathan Chinn's new documentary series about hostage negotiations Captive premieres on December 9, just in time for people to argue about how Die Hard was really a Christmas movie.
Finally, Netflix's update on Norman Lear's classic sitcom One Day at a Time will premiere on January 6, 2017.
Oh, and not for nothing, but Netflix has also cast award-winning actress Jennifer Garner in its kids' series Llama Llama. She will play Mama Llama.