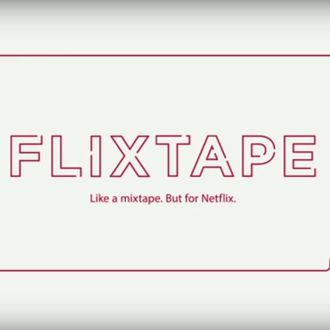 Netflix knows it's your favorite place to procrastinate. To help you kill more time,  it's added a new feature: Flixtape, a playlist function that will enable you to make Netflix-TV-and-movie "mixtapes" — because you don't need to do errands or clean your house, you need to make an "Every Show I Liked in 1999" playlist. (Start with Buffy, proceed with The West Wing …)

If you're looking for inspiration, Netflix has some premade Flixtapes all lined up for you. The "Besties or Frenemies" playlist contains eps of Pretty Little Liars, Unbreakable Kimmy Schmidt, New Girl, and wild-card 1997 film Good Burger, while the "Summertimes" playlist features Wet Hot American Summer: First Day of Camp, Moonrise Kingdom, Grease, and, ahem, High School Musical 2.
Before you commence your Flixtape-ing, remember John Cusack's High Fidelity mixtape advice: "The making of a good compilation tape is a very subtle art. Many dos and don'ts. First of all, you're using someone else's poetry to express how you feel. This is a delicate thing." Truer words were never spoken.