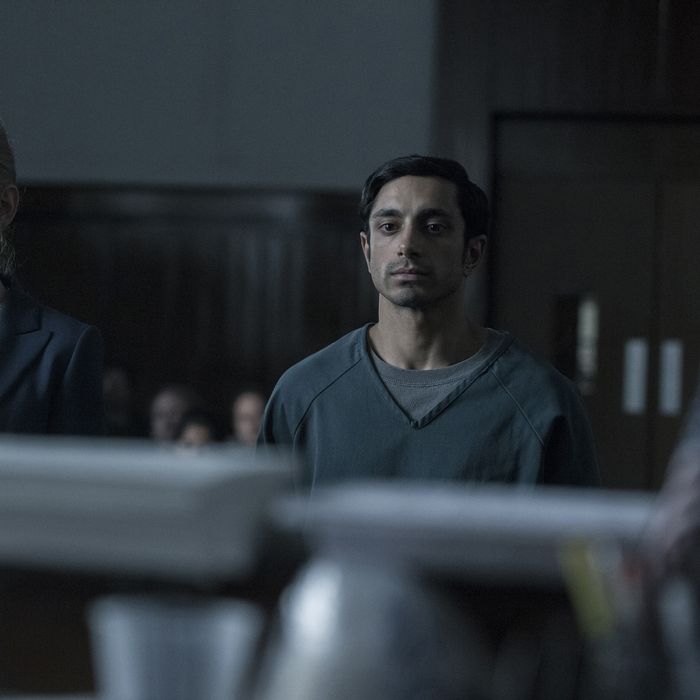 Glenne Headly as Alison, Riz Ahmed as Naz.
Photo: HBO
"You wanna play roulette? Go to Atlantic City where the odds are better," John tells Naz in court, just before he's about to take a plea deal constructed by Alison, his slick, manipulative new lawyer. In "The Art of War," Alison negotiates Naz's charges down from murder and sexual assault to manslaughter. With a plea, he will serve a flat 15-year sentence. The district attorney's office wants the case to be over and done with. Alison wants a quick, easy victory to tout in front of the press. Even Freddy, the Rikers inmate looking over Naz's shoulder, advises him to accept the offer. "Take the deal," they all keep telling Naz, who finds his options dwindling and his life expectancy shortening by the day.
But John doesn't tell Naz to take the plea out of self-interest, but rather out of sheer empathy for his awful situation. "Unless you fuck it up in there, 15 years is 12 years. Twelve years, you still have a chance of walking out of there a human being," he says, approaching him like the kid he is. When Naz worries that the world will see his plea as an admission that he killed Andrea, John tells him gently that it will only mean he doesn't "trust 12 idiots on a jury to get it right." It's a powerful expression of kindness in a series that doesn't dole it out too often, but despite John's pleading, Naz has ideas of his own. He knows he didn't kill Andrea, and he's not going to accept a guilty plea just because it's easier for everyone else. They don't believe he's innocent, but Naz does, and that's more than enough of a reason to take the case to trial.
The second half of "The Art of War" focuses on the excellent drama that pits Naz against his legal council and his own self-doubt, but before series co-creator Richard Price injects some energy into the script, the episode appears to be the weakest so far, primarily because of Naz's prison story line. In short, Naz gets close to another inmate (Ashley Thomas), who takes it upon himself to teach him the ropes of the joint. "Respect is all people got in here," he tells Naz, explaining how to walk, talk, and live in an institution beset on all sides by danger — "Everything is a weapon," "Get some meat on your bones," "Don't look people in the eye," and so on. Meanwhile, Freddy keeps trying to persuade Naz into accepting his protection, and gives him a blue jumpsuit instead of an orange one when he goes in front of the judge, so he doesn't look like a violent offender. Why does Freddy like Naz so much? "You're like a care package for my brain," he tells him, expressing admiration for his intellect and naïve compassion.
Yet, the prison material feels like such well-worn territory that even Price can't quite save it. Last week, he and co-creator Steven Zaillian focused almost entirely on atmosphere and mechanics of the institution — the milieu of visiting hours, the various stages of enclosure, the ways prisoners vie for better food by claiming they're Muslim — but here, Price and director James Marsh (Man on Wire, The Theory of Everything) simply follow the hierarchy of Rikers. It's much less compelling and much more rote than last week's episode, and the dynamism of "The Art of the War" dips every time it cuts back to Naz. Plus, Price telegraphs many of the story beats, particularly with the new inmate's background and his allegiance with (and eventual betrayal of) Naz. The ending in particular — Naz finally accepting Freddy's protection — reads like an obvious turn of events that was drawn out for two entire episodes in an attempt to goose the drama.
Although the prison story line isn't quite up to snuff, everything else fires on all cylinders. The Night Of subtly starts moving the pieces as it heads into its back half, bringing characters like Chandra into the foreground after teasing her involvement last week and maintaining a tone of devastation in the background. After John loses interest in his usual clientele, he starts snooping around a rehab center and strikes up a deal with an employee to get him patient records. He later shows these to Chandra, who reluctantly accepts them and realizes John's worth in the process — unlike Alison, who mocks him in court in front of a judge. ("John, that was uncalled for," Helen tells him sympathetically.) While Chandra observes the proceedings, she realizes two things: (1) The limitations of Alison's expertise, given her eagerness to win over the press and her unwillingness to go to trial, and (2) There's more to Naz's case than meets the eye. Amara Karan (who played Rita in Wes Anderson's The Darjeeling Limited) wonderfully conveys this shift with sympathetic looks and curious facial movements, demonstrating that some of the best acting in The Night Of requires silence and listening.
It's Chandra who ultimately convinces Naz not to take the plea. Alison pushes her to see Naz before they go in front of the judge, so as to make him feel comfortable, but Chandra doesn't make Naz feel comfortable because of her race. Instead, it's because she talks to him like a human being. She explains to him that trials cost a lot of money, so it's in everyone's best interest that he accept the deal. But she also looks him straight in the eye and says that the only reason to take the deal would be if he killed Andrea. If he didn't, he shouldn't take it. Plain and simple.
That's what Naz takes into the courtroom when Helen interrogates him about the night in question. After she runs through a litany of questions, she finally asks, "Are you pleading guilty because you are guilty?" to which Naz, filmed in an intimate straight-ahead close-up, meekly affirms. But when Helen actually asks Naz to describe the night in question, he flashes back to a series of out-of-focus images in his head — beads hanging from the ceiling, the moose's head, a staircase — and ultimately tells the truth about what he remembers. Alison reams him out in the jail cell for screwing himself over, then hands primary duties over to Chandra — a calculated move since she won't receive the blame for the trial — and tells Naz's parents that she can no longer work for free.
Though the walls may be closing in on Naz, he's no longer a bystander in his own life. He's taken control of his fate by refusing to back down to legal pressure. (And by accepting Freddy's protection.) He acts like someone who knows his own actions and is unwilling to compromise his memory and beliefs. There's pride in believing your own innocence, something Naz hasn't felt since he got pinched. "This joint full of so many 'I didn't do it' motherfuckers, they're falling from the rafters," his faux-friend sneers, but Naz knows he's different. And now, he can only hope that the few people remaining in his corner can convince those 12 idiots to believe the same. They hold his life in their hands.
Crimes and Misdemeanors:
In other John stories this week, he visits a second doctor (played by the great character actor Jack Gilpin), who tells him to bathe in bleach and stop picking at his feet with a pencil. He also has sex with a prostitute in exchange for getting her off solicitation charges.
More devastating news for the Khan family: Naz's brother is forced to take a leave of absence from school, despite being on the honor roll, after parents complain about his presence in the classroom.
The two books everyone reads in prison according to Freddy: The Art of War by Sun Tzu and The Other Side of Midnight by Sidney Sheldon, for "obvious reasons." Freddy tries to get Naz to pick up Jack London's The Call of the Wild, but he's already read it before.
Alison shows her true colors when she snaps at Salim for suggesting he make a statement to the press. In turn, he gives her a knowing look when she tells him that she needs to charge for her services. He's realizing what a snake she really is.
Two Sopranos alums make appearances as the rehab employees: Aida Turturro (John Turturro's cousin), who played Janice, and Max Casella, who played Benny.