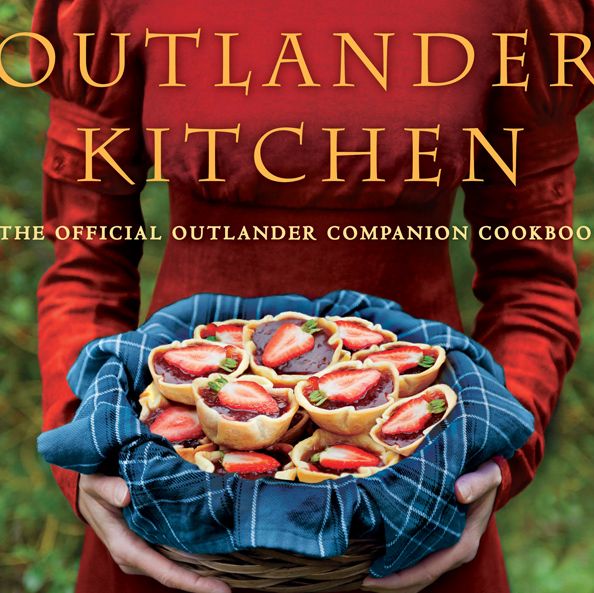 It's a sad day, Sassenachs. Season two of our favorite feminist sci-fi fantasy, Outlander, is coming to a close. But don't start drowning your sorrows in whiskey just yet. Let's celebrate a great season by throwing a dinner party worthy of the court of Versailles. Or at least, a war encampment in the moors of Scotland. With the Outlander Kitchen cookbook out this month, we here at Vulture decided to test some recipes inspired by Diana Gabaldon's best-selling series as a way to bid farewell to season two. So let's step through the stone circle and see what delicious meal the past has in store for us.
First, a few notes about our experience. We really wanted this to feel like a simple meal you could prepare for a finale viewing party. It's important to note that this cookbook is not just limited to 18th-century Scotland, but like Claire's journey itself, spans time and space, including some very silly '50s- and '60s-era entries like pimiento cheese balls and Diana Gabaldon's own recipe for cheese enchiladas. So we kept it simple: We wanted a meat, pastries, all done with few ingredients. But as with any good drama, things didn't go quite as planned. The oven vent wasn't working, so we were soon covered in sweat and smoke, with some of us wrapping puff pastry around asparagus spears, while others furiously fanned the smoke detector with a dish towel to stop it from beeping. But like your Claire Fraser, we were survivors, and we made some damn good food.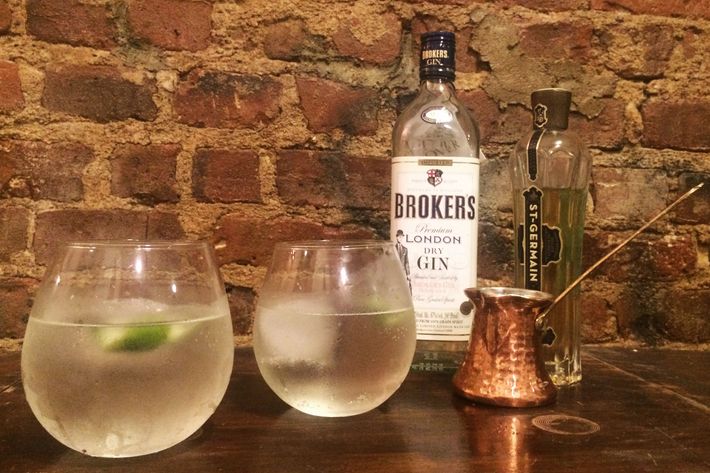 Cocktail
The Comte St. Germain's Poison
1 ½ ounces gin
½ ounce St-Germain elderflower liqueur
Ice
Tonic water
Lime twist

This cocktail is perfect for summer, especially in stuffy Brooklyn apartments. A classic whiskey would have felt more traditional, but given the finale's July air date and season two's French theme, this drink felt as fitting as a corset. We stirred each beverage individually, but you could also make a pitcher. Or mix it with some poison and serve it to your enemies before the king of France. Your choice!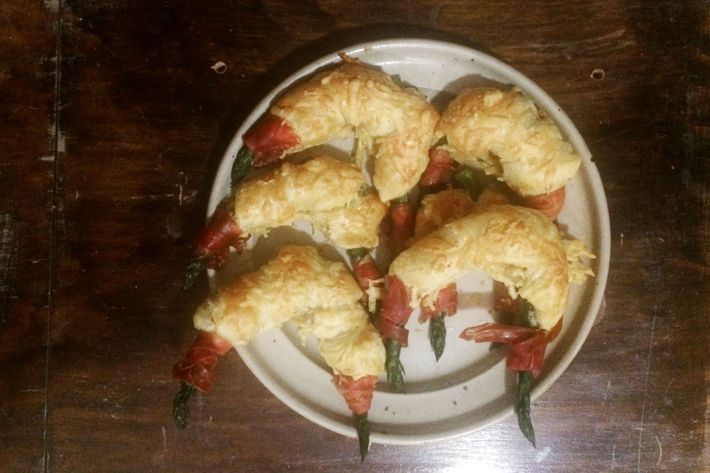 Appetizer
Murtagh's Gift to Ellen (Puff Pastry Boar Tusks)
12 slices prosciutto
1 pound frozen puff pastry
1 large egg
12 asparagus tips
½ ounce Parmesan cheese
This is a cute example of the portion of the cookbook's recipes that are inspired by the series, as opposed to dishes that are actually eaten in the series. The curved asparagus are meant to mimic the boar-tusk bracelets Claire receives as a gift. This recipe called for the most involved preparation of the ones we chose, but twisting the dough and the prosciutto around asparagus spears was a fun activity to do while discussing your favorite of Claire's Parisian ensembles. We highly recommend these "bracelets" as either an appetizer or a side dish. We would not advise wearing them on your wrists, however: Asparagus doesn't really dangle well.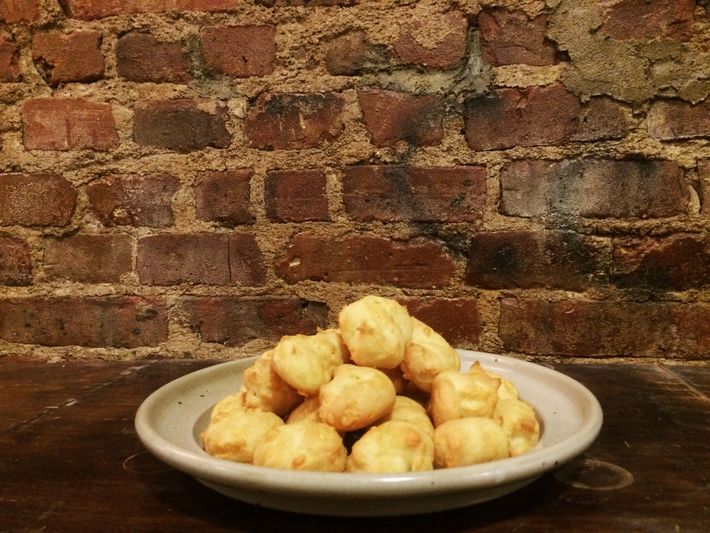 Side Dish
Cheese Savories (Gougeres)
½ cup butter
½ teaspoon kosher salt
½ teaspoon mustard powder
1 cup all purpose flower
4 large eggs
6 ounces shredded cheese
This was by far the best recipe of the night. Cheese. Dough. Baked. What more could you ask for? They were like cookies, but salty and tangy, and once you popped one, you just kept going back to the plate for more. Eating them was like stepping outside on a cloudy day and suddenly the sun came out.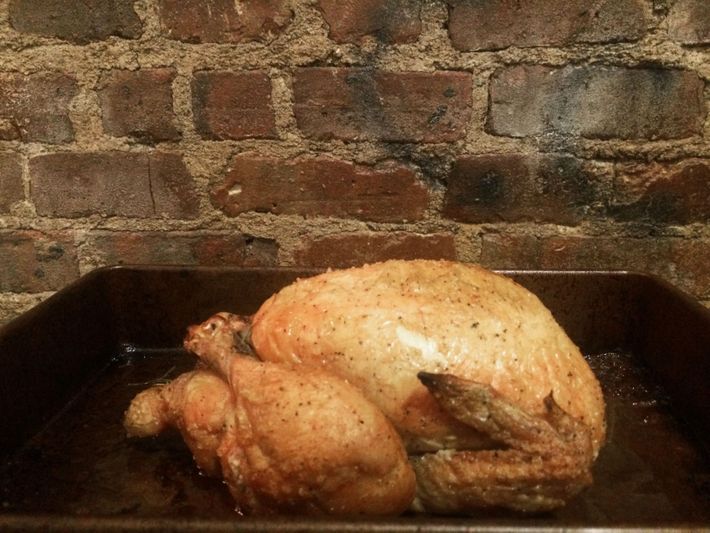 Main Dish
Claire's Roast Chicken
3 ½ - 4 pound whole chicken
1 ½ teaspoons kosher salt
½ teaspoon freshly ground pepper
¼ lemon
2 fresh rosemary sprigs
2 garlic cloves, crushed
2 tablespoons all-purpose flour
1 ½ cups chicken stock
We may have adapted this recipe slightly. We had one small problem in the preparation: no butcher string. But alas, we took inspiration from our ingenious Claire and didn't allow a lack of supplies to keep us from accomplishing our goals. Just as Claire would use a ripped shirt to dress the wounds of a Scottish hunk, we used a spool of sewing thread to truss our chicken. The method itself is similar to Thomas Keller's simple roast chicken recipe, which forgoes any liquid basting or added fat. We used a hybrid of both recipes, stuffing the chicken with rosemary and garlic, while omitting the lemon so as to avoid steam. The result is a crispy skin and tender meat (even the white parts!). Just make sure your oven vent is working.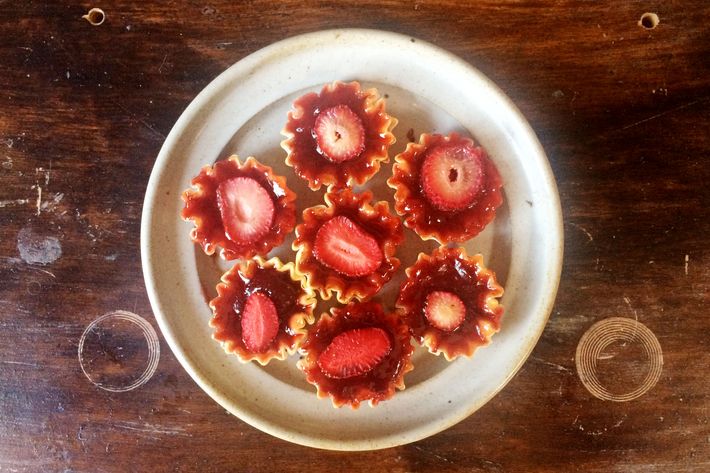 Dessert
Jam Tarts
12 inch pastry crust
½ cup Strawberry jam
Strawberries
Jesus H. Roosevelt Christ, this dish was our only mistake. The recipe calls for homemade dough and homemade jam, but your beleaguered editors didn't have the time for such handiwork. Instead, we bought frozen pastry shells and strawberry jam for these tarts and simply assembled them with a fresh strawberry on top. Unfortunately, the jam was too sweet and the crust too dry: That's what we get for trying to take a shortcut! The jam recipe in the book calls for Granny Smith apples, and that tartness was sorely missed. How silly of us to think we knew better than Claire Beauchamp Randall Fraser.