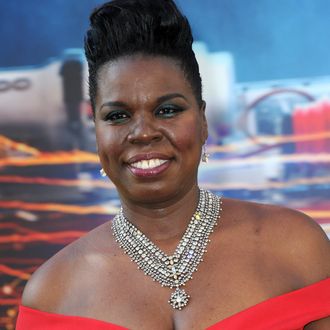 Photo: Albert L. Ortega/Getty Images
When Leslie Jones called attention to the ghastly, racist tweets she's regularly sent containing racially explicit comments and images last night on Twitter, Ghostbusters director Paul Feig saw the horror and crossed his proton pack's stream (a.k.a. his Twitter account) with Jones's to blast the internet trolls into enlightenment. Celebrities such as Margaret Cho and Elizabeth Banks were quick to chime in with their support for Jones and condemnation of Twitter's abuse policies using the hashtag #LoveForLeslieJ.
However, despite the prevalence of #LoveForLeslieJ — the hashtag became a trending topic in the U.S. as Jones continued to respond and retweet the abuse for hours — Jones sent a few dejected tweets criticizing Twitter for its practices and announced that she's leaving the social-media platform indefinitely.
Update, July 19: Following a tweet from Twitter CEO and co-founder Jack Dorsey last night, Twitter has released a statement regarding Jones's account. "This type of abusive behavior is not permitted on Twitter, and we've taken action on many of the accounts reported to us by both Leslie and others," it says. "We rely on people to report this type of behavior to us but we are continuing to invest heavily in improving our tools and enforcement systems to prevent this kind of abuse. We realize we still have a lot of work in front of us before Twitter is where it should be on how we handle these issues."