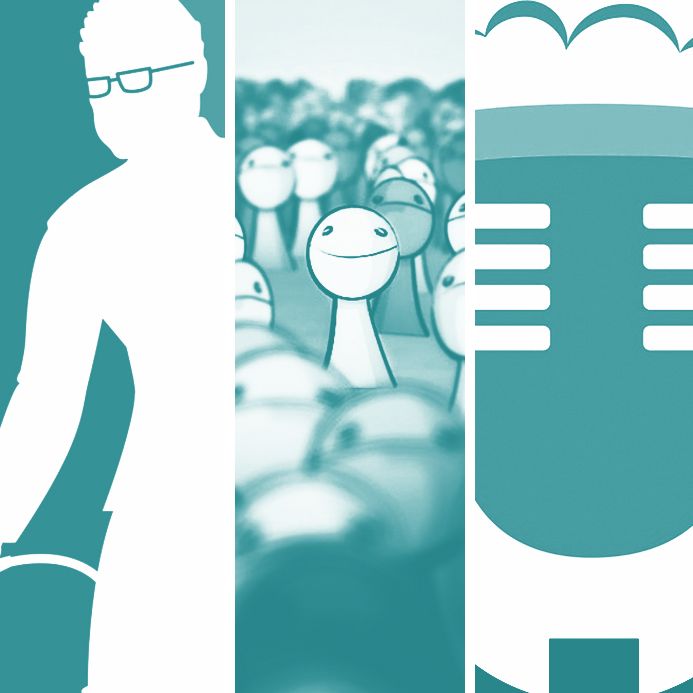 This week, Vulture is providing Summer Selections: picks for the best beach-worthy books, comics, music, and podcasts, as chosen by creators of that entertainment. Today we're highlighting podcasts; here's our panel:
ANNA FARIS
Faris is co-star (alongside Allison Janney) of the CBS comedy Mom and the creator and host of a podcast about relationships, Anna Faris Is Unqualified, which she records at the dining-room table of her Hollywood home with guests such as Keegan Michael Key, Anna Chlumsky, and fellow panelist Paul Scheer.

TERRY GROSS
Gross has been host and co-executive producer of the popular NPR-distributed interview radio program/podcast Fresh Air since 1975.
PAUL SCHEER
Comedian and actor Scheer is the co-host — along with his wife, actress June Diane Raphael, and actor Jason Mantzoukas — of How Did This Get Made?, a podcast about terrible movies. Scheer and actor Rob Huebel also recently transformed their UCB show Crash Test into a party-bus tour of Los Angeles for a special that aired on Comedy Central.
AISHA TYLER
Tyler is an actress and comedian known for voicing Lana Kane in FX's Archer, and co-hosting CBS' The Talk and CW's improv-comedy sketch show Whose Line Is It Anyway? She's the creator and host of Girl on Guy, a podcast about, among other things, "booze, comedy, family, video games, and blowing shit up."
THE PICKS (ARRANGED ALPHABETICALLY):
Alison Rosen Is Your New Best Friend hosted by Alison Rosen
I had one of my favorite conversations ever — about anxiety, failure, pregnancy, ambition, self-destruction, and transformation — last year with [former Adam Carolla Show "news girl"] Alison Rosen on my own podcast. She is a delight and willing to tell the truth about everything in her life, without making you feel like she doesn't care about what's happening in yours. Listen when you have an hour to sit on your porch, drinking a beer — it feels like your best friend from middle school came back to town for the summer and it's as if no time had passed at all. —Tyler
Billy Gorilly's Podcast for Kids hosted by Billy Gorilly
Billy sings fantastic, ridiculous educational songs for kids about everything from cleaning their rooms to the months of the year. My son, Jack, and I listen to it together when we're in the car on the way to his summer camp. But after I drop him off, I'm finished. I do appreciate Billy Gorilly very much — for short periods of time.  —Faris
The CrabFeast hosted by Ryan Sickler and Jay Larson
Hosts Ryan Sickler and Jay Larson are both comedians, but this show is not about being funny; rather, it's about stories, and telling the truth about experiences as small as getting a parking ticket and as big as discovering the darkly secret past of a beloved relative long after their death. It's intimate, weird, and affecting. —Tyler
Doughboys hosted by Mike Mitchell and Nick Wiger
Summer is all about going to the beach, getting too much sun, drinking too many beers, and then eating shitty fast food on your way home; this is where Doughboys comes in. Hosts Mike Mitchell and Nick Wiger guide you through the fast-food world with in-depth discussions and reviews of the fast-food places we eat at all the time or never dared to try. Often, their reviews are heavily biased by the mood they were in when they ate it, and each episode is funnier than the last. You'll never look at Panda Express the same way again. —Scheer
Hollywood Handbook hosted by Sean Clements and Hayes Davenport
Hollywood Handbook is the definitive resource for any and all wannabe industry power players on the dos and don'ts. The weekly podcast is full of inside scoops, dirty celebrity gossip, and the "real deal," all from the two biggest power players in the game: comedy writers Sean Clements and Hayes Davenport. Listen to it, and if you do it right, whatever you do next will make 100 million dollars. —Scheer
The Longest Shortest Time hosted by Hillary Frank
I don't have kids, but I love this podcast about childbirth and parenthood. Hillary Frank's interviews are as revealing — and candid — as you're likely to hear on these subjects.  —Gross
On the Media hosted by Brooke Gladstone and Bob Garfield
For analysis of how the media is covering the world and how the world is treating journalists, I turn to this public radio program/podcast hosted by the always incisive Brooke Gladstone and Bob Garfield, from WNYC in New York. It helps me compensate for not having gone to journalism school. —Gross
Pop Culture Happy Hour hosted by Linda Holmes
I check this out to hear what the panelists — people who work at NPR, not necessarily on air — have to say about what they've been watching, reading, or listening to that week. —Gross
The Pub hosted by Adam Ragusea
I rarely miss an episode of Adam Ragusea's podcast about the goings-on in public media. If you wonder what problems keep public radio producers, hosts, and executives awake at night, this is for you. Ragusea is a journalism professor and former public radio producer who's very funny and knows his stuff. —Gross
The Radio Adventures of Eleanor Amplified created by John Sheehan
The heroine of this comedic, digital-era radio serial is a reporter investigating a mega tech company whose villainous CEO keeps Eleanor in constant peril. The series is intended for kids, but there's plenty of snappy dialogue, and punch lines for parents, so you can listen together. It's written and produced by John Sheehan, one of Fresh Air's producers. I'm in awe of his audio wizardry. —Gross
The Rachel Maddow Show hosted by Rachel Maddow
Summer doesn't mean you should just watch movies about giant creatures (robotic, humanoid, or alien in nature) and exploding landmarks. You gotta get your smarts in, too, and you can do that by listening to The Rachel Maddow Show's daily podcast. Yes, she has a daily podcast. Well, it's just the audio version of her TV show, but it's commercial free and so damn compelling. It makes me feel smarter for listening to it and you will, too. —Scheer
Sleep With Me hosted by Drew Ackerman
This is a crazy-cool podcast hosted by a librarian named Drew Ackerman that helps you fall asleep because it's so boring. You need to check it out. There was actually another one for falling asleep that I used to listen to, but I had to stop after a while because the guy started to remind me too much of a slightly stoned uncle. I'm sure he's a very well-meaning person, but he was creepy. —Faris
Snap Judgment hosted by Glynn Washington
Host Glynn Washington is such a fantastic storyteller. It feels like a close relative of This American Life. It's especially fascinating to me how the stories can start out like, "I was eating an ice cream on a Sunday" and then "I got into a terrible car crash." The weaving and crafting of the narratives are really fascinating. I also love how he incorporates a lot of his own personal interesting childhood stories, and has really this great, rich podcast voice. —Faris
The Speakeasy hosted by Damon Boelte
This is a show about booze, which I love to drink and think about and talk about and then drink again. The Speakeasy is both about spirits themselves, as well as about bartending, cocktails, the production of spirits, and everything in between. Host Damon Boelte is a bar man with an extensive knowledge of the beverage world and a huge fan of his interviewees. You often hear the tinkling of ice in glasses — the most beautiful sound in the world — which makes me want to wander outside with an icy beverage of my own and plop down in a hammock. And now I'm thirsty. —Tyler
Strangers hosted by Lea Thau
Lea Thau is based in L.A. and is the former producer and director of The Moth. And, oh my goodness, I love her vulnerability. I also love how listening to her makes you feel like you're sitting with a therapist. She draws a lot of intimacy out of her guests. Podcasts like hers, it turns out, are much more convenient and entertaining ways to kind of get the same information as listening to news, which is why I love them. —Faris
Sklarbro Country hosted by Jason and Randy Sklar
It's about sports the way that Entourage was about Hollywood; both completely and not at all. It uses sports as a launching pad for artful, well-crafted comedy volleys between strangely foxy twin hosts Randy and Jason Sklar, sometimes doing sea-floor-depth dives into sports arcana, and sometimes ignoring sports entirely. They are smart, enthusiastic, expansive thinkers in an era of dumb, dismissive nihilists, and their dulcet nasal voices are the honey-timbred stuff of spoken lullabies. —Tyler
This American Life hosted by Ira Glass
No one should be surprised to find this on my list. Ira Glass's program/podcast has transformed both radio storytelling and investigative journalism, and its producers, including Sarah Koenig (Serial), Alix Spiegel (Invisibilia), and Alex Blumberg (founder of the podcast company Gimlet), have gone on to create innovative podcasts. TAL also introduced its listeners to the podcast Death, Sex & Money, in which Anna Sale gently gets her guests to speak about sensitive subjects — including the ones mentioned in the title. —Gross
WTF hosted by Marc Maron 
Marc Maron's stand-up persona — angry, resentful — doesn't prepare you for his curiosity and empathy when interviewing actors, directors, musicians, and fellow comics. He gets them to talk about things they might not otherwise share. His interview style is more first-person than mine, but I learn a lot from him. I also love his opening monologues. —Gross
You Must Remember This hosted by Karina Longworth
Maybe you're afraid to go to that summer house your friend rented because what if it has slow internet or, even worse, no internet. If you can't watch Netflix, you'll die! But wait! Now you can leave the house and take the amazing documentaries of Netflix with you. Not really, but kind of. Host Karina Longworth is an amazing audio documentarian who takes you through the stories of old Hollywood. From the politics of MGM Studios to the insanity of Charles Manson, her multipart series are like a shot of Serial mixed a great beach read. —Scheer