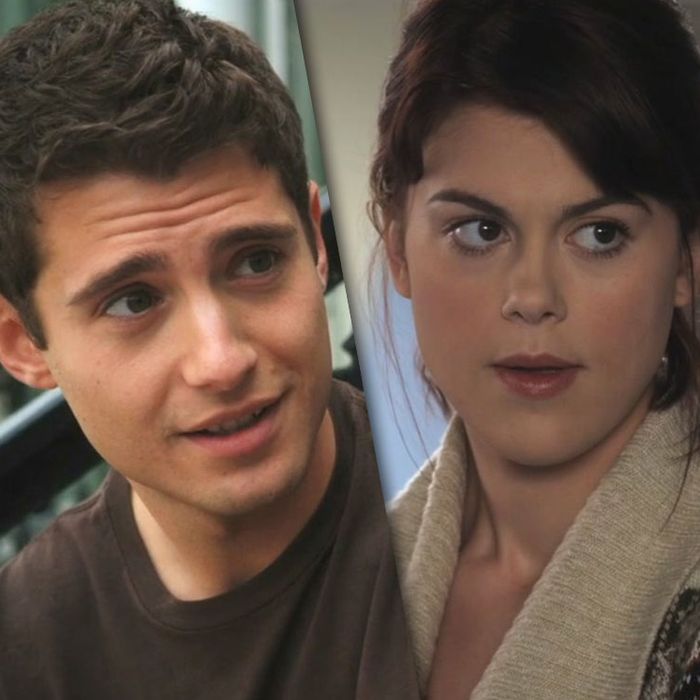 For a series that seems to frequently annoy fans with its unfulfilled plotlines, the seventh season of Pretty Little Liars has pleasantly surprised us by decisively following through with its self-declared "season of homecomings" theme. So far, the long-unseen Jenna Marshall and Noel Kahn have made valiant returns to Rosewood, and it looks like they'll both be sticking around for awhile to wreak havoc on the Liars. The duo's return — though not unexpected — is certainly a treat, harkening back to the Liars' dysfunctional and campy high-school years. But it also got us doing a bit of thinking. As the show's universe continues to expand with each episode, what has become of all of the previous recurring characters? Some are frequently mentioned and not seen, while others have simply vanished without an explanation. Should they choose to pop up in Rosewood again soon, we decided to investigate and see where we left off with 15 of these familiar faces.
Ashley Marin
Last appearance: Season 6, episode 18: "Burn This"
Last arc: Rosewood's resident cool mom threw a bachelorette party for her daughter, Hanna, which ended with a fireplace having a minor explosion and injuring Aria. She also attempted get Hanna and Mona to reconcile their friendship. She's maintained a spiritual presence in season seven, as the girls frequently visit Ashley's the Radley to socialize, and it's also mentioned that she gave Emily a bartending job.
Byron Montgomery
Last appearance: Season 6, episode 16: "We've All Got Baggage"
Last arc: Byron and Ella, Aria and Mike's parents, get remarried in a tasteful outdoor ceremony. He asks Aria to officiate their wedding, which she does after a brief period of hesitation. Despite Aria temporarily living at the family's home in Rosewood in the past, Byron hasn't been seen nor heard from.
Jason DiLaurentis
Last appearance: Season 6, episode 10: "Game Over, Charles"
Last arc: Jason and Kenneth were drugged and kidnapped by CeCe Drake — birth name Charles DiLaurentis, now referred to as Charlotte DiLaurentis — where we also see a few high-school flashbacks to when CeCe befriended and became romantically involved with Jason. When CeCe surrenders and is captured by the police, he and his father are also saved. He's mentioned a few times in season seven as being out of the country, specifically by Spencer, who says Jason was never informed that Alison had checked into Welby; Elliot previously claimed he had talked to Jason and had been given his blessing to treat Alison however he deemed appropriate.
Pam Fields
Last appearance: Season 6, episode 13: "The Gloves Are On"
Last arc: Pam discovered that her daughter, Emily, dropped out of college and angrily confronts her about it. They quickly reconcile, with Pam saying that Emily should come to her with any problem, regardless of the severity. In season seven, Emily doesn't seem to be staying in the Fields' Rosewood home.
Melissa Hastings
Last appearance: Season 6, episode 17: "We've All Got Baggage"
Last arc: Melissa's involvement with the "A" team has always been hinted at in some regard, and she was last seen coming close to it again when Spencer discovered her suitcase was broken and discarded; the broken metal component perfectly matched the description of the object that killed Charlotte. (It didn't help that Melissa's reasoning for what caused the luggage to break was quickly uncovered as a lie.) This implied Melissa could have potentially killed Charlotte, though this theory has yet to be confirmed. Later, a flashback sequence featuring Melissa and Hanna during a chance meeting in London revealed Melissa had become a target of someone posing as a form of "A," whose sinister dealings prompted her fiancé, Wren, to leave her. It's assumed she has since returned to her life in London.
Mike Montgomery
Last appearance: Season 6, episode 7: "O Brother, Where Art Thou?"
Last arc: He comforts his ex-girlfriend, Mona, and his sister, Aria, who are both still recovering from their respective ordeals at the dollhouse. (He even brings Mona some of Aria's old dolls as a heartfelt gesture.) Since then, it's been revealed that Mike is at an undisclosed college. He chose to not attend Ella and Byron's wedding because he didn't fully approve of them being back together.
Wren Kingston
Last appearance: Season 4, episode 10: "The Mirror Has Three Faces"
Last arc: Despite Wren always being an extremely popular candidate for the identity of "A," the character (surprisingly) hasn't actually been shown onscreen since August 2013. We last see him working at Radley Sanitarium, where he was treating Mona for her psychiatric problems and trying to determine whether she had anything to do with the murder of Detective Wilden. Toby finds out later that Wren is moving in with Melissa — the two later get engaged and move to London — and that he has an unidentifiable connection with Shana. In season five, Veronica calls Wren to help set Spencer up for interviews at top English universities, while it's revealed in season six that he and Melissa broke up after "A" began to meddle in Melissa's life.
Veronica Hastings
Last appearance: Season 6, episode 20: "Hush, Hush, Sweet Liars"
Last arc: Veronica wins the senate election, and she's declared the newest senator for the state of Pennsylvania after a tumultuous campaign. We don't know if she has assumed her position yet or not. On a more somber note, earlier in the season Spencer discovered that Veronica's cancer had returned.
Paige McCullers
Last appearance: Season 5, episode 14: "Through a Looking Glass, Darkly"
Last arc: Paige's parents force her to move to California to finish her high-school education there, because they think Rosewood is too unsafe for her to continue living in. Emily rushes to the airport to say good-bye to her one last time, as Paige accepts that the move is most likely for the best. She and Emily speak briefly offscreen once after the events of the doll house, but since then, Paige has not been mentioned.
Peter Hastings
Last appearance: Season 6, episode 20: "Hush, Hush, Sweet Liars"
Last arc: At a celebration party for his wife Veronica's state senate election, Peter is the first one to formally introduce Veronica as a senator after she wins. In the previous episode, he told Spencer that someone was blackmailing Melissa before Charlotte's hearing began, claiming that they had footage of her confessing to burying Bethany Young. This required Melissa to return to Rosewood in secret and pay the demanded amount.
Anne Sullivan
Last appearance: Season 6, episode 3: "Songs of Experience"
Last arc: Following the traumatic events of the dollhouse, Hanna encounters Dr. Sullivan in front of Rosewood High, who encourages Hanna to set up an appointment with her to discuss the ensuing PTSD. They talk briefly in a classroom, and Dr. Sullivan requests that all four girls set up a formal appointment at her office. Hanna successfully convinces the girls to attend a session, but when all four of them are at her office, they receive a video message from "A" who threatens to kill Sara Harvey with a knife unless they leave immediately. Hanna later calls Dr. Sullivan to apologize for unexpectedly leaving, but she never sets a date to reschedule. Emily's mother, Pam, later makes an appointment for Emily to see Dr. Sullivan, but Emily doesn't follow through with it.
Andrew Campbell
Last appearance: Season 6, episode 3: "Songs of Experience"
Last arc: Despite a compelling theory that he could indeed be "A," it turns out Andrew was completely innocent of kidnapping the Liars and holding them hostage in the dol house. He's released from police custody once his alibis are corroborated, and he soon encounters Aria and furiously scolds her for turning on him. It turns out he was genuinely trying to help the Liars and be a "hero" while trying to discover the truth about their disappearances. He walks away into the darkness, never to be heard from again on the show, but not before dumping a few more livid words on Aria.
Kenneth DiLaurentis
Last appearance: Season 6, episode 10: "Game Over, Charles"
Last arc: Despite his daughter Alison checking herself voluntarily into a psychiatric hospital, and his other daughter Charlotte being brutally murdered, Kenneth hasn't had any screen time in a year. He's last seen when Charlotte drugs and kidnaps him and Jason as part of her final scheme, where it's also revealed through numerous flashbacks that Kenneth's biased antagonism towards Charlotte in her youth was the primary reason she was locked up in Radley Sanitarium for so many years.
Linda Tanner
Last appearance: Season 6, episode 18: "Burn This"
Last arc: Five years later and Detective Tanner's still working at the Rosewood Police Department. She shows up on Aria's doorstep asking her to come to the station for a lineup — regarding a witness who saw an Aria-like person at the Two Crows Diner on the night of Charlotte's murder — which Aria agrees to do. After the lineup, Aria "accidentally" spills coffee on Tanner's folders in the hopes of sneaking a peek at the information they have on the woman at the diner. She finds out that the woman is characterized as an attractive, anxious-looking brunette making a phone call, who also owns a pink-dice key chain. Tanner's neither seen nor heard from after this episode, although there have been numerous scenes inside and outside of the police station.
Lorenzo Calderon
Last appearance: Season 6, episode 14: "New Guys, New Lies"
Last arc: Lorenzo's also still employed by the Rosewood Police Department after the five-year time jump, where he was promoted to a detective. Along with Toby, he's dedicated to solving Charlotte's murder case. He's forced to release Hanna from questioning after the only evidence he had to pursue a case against her — the backup drive from the Radley's security cameras — is lost. He and Alison split up sometime during time jump.