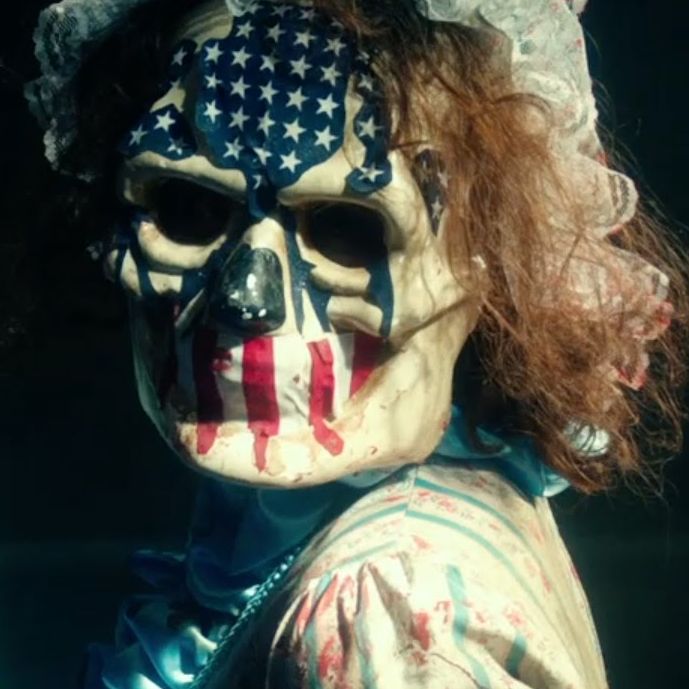 Photo: Universal Pictures
Over the holiday weekend, the The Legend of Tarzan and The BFG, along with their combined $320 million budgets, were slated to do battle at the box office, and the results — a better-than-expected but still not-good-enough $46.5 million for Tarzan; a disastrous $22.7 million for The BFG — provided another data point for stories about the studios' summer struggles. But quietly, a familiar David managed to eclipse the supposed Goliaths: The Purge: Election Year and its $10 million budget brought in just over $36 million.
Election Year's success marks the third time in a row that the Purge franchise, written and directed by James DeMonaco, has delivered a hit. But it also marks a turning point in the series: There haven't been reports of a fourth movie being underway, Election Year's conclusion provides closure to the franchise, and the series's creator may be ready for a new project. Should Universal be satisfied with its success and move on? Or would it be a mistake to call it at a trilogy when so many possibilities for future Purges still beckon? Pro bono, Vulture Consulting decided to compile the pros and cons of making 4urge.
The Case for More Purging

The pros of another Purge begin and end with those box office receipts, which are ridiculous. The first Purge made $89 million worldwide on a $3 million budget; the second did $112 million on $9 million. The third is already off to a faster start than either of its predecessors, at the same time boasting the best reviews and CinemaScore to date for the franchise, meaning that it should also be a safe bet to post the highest gross.
Weirdly, audiences' urge to purge has increased as the central conceit became more familiar and the movies shed recognizable names. The first Purge featured Ethan Hawke and Lena Headey, and the second had Frank Grillo, Michael K. Williams, and Zach Gilford. The third just went with Grillo and Lost alum Elizabeth Mitchell. At this rate, it feels like Universal could put a bunch of YouTube strivers into Purge 4 and count on a payday. It's a testament to the strength of the concept, and concepts are highly iterative.
Even if a fourth Purge was met with exhaustion or disinterest (of which there's currently no indication), it's still hard to imagine that it wouldn't be profitable. The fall from a 10X budget-to-box-office return into the red is a long one indeed. This holds especially true when we're looking at the best-liked and highest-performing installment of the series so far. All signs point to plenty of appetite left for another Purge, even if — and here lies the major question — there have to be creative adjustments.
The Case Against Purging On

There are two big questions standing in the way of a new chapter. The first is (spoiler alert spoiler alert) the ending of Election Year, which sees Mitchell's character get elected president and then do away with the Purge as a tool of American domestic governance. (CRAZY, RIGHT???) Now, the significance of a narrative event like this is debatable; they could always go into the past or distant future (à la a prequel following Ethan Hawke's original character), or do a soft reboot of sorts (à la the Fast and Furious franchise post–Tokyo Drift), or just gin up some reason to re-institute the Purge against the president's wishes (à la modern American politics). But by ending Election Year on such a note, it does suggest that DeMonaco and Universal at least wanted to give themselves the option of shutting it down here, or else taking the franchise in a much different direction.
The other potential obstacle is DeMonaco's involvement. Election Year was never a guarantee — Grillo had only signed on for one movie, and he was surprised when DeMonaco came back with another idea for his character. And around the release of Anarchy, DeMonaco was already beginning to suggest that he didn't know whether he'd keep on with the franchise. Were he to decline another go-round, it would hardly be the end of Purge movies; Blumhouse has kept churning out Paranormal Activities well after Oren Peli stopped making them, and they could get any number of writers and directors to take a stab at a story within the existing framework. But it would still require an adjustment, and considering that the three Purge films so far have all been the work of the same filmmaker, it carries a greater risk of brand weakening than it would had he just made one.
It should also be said that DeMonaco has churned out three of these in four years. That's a remarkable pace, and he could need a little time to recharge the batteries. At the same time, forcing someone else to jump in and take the reins at a similar pace would be risky, unless they've already got screenwriters brainstorming possible ideas. All of this plays into the ultimate downside facing any potential franchise extension: that you could make a terrible movie and kill the golden goose. The Purge isn't such a huge moneymaker that it's keeping Universal afloat — there's no need to rush a fourth film.
Conclusion: Continue to Purge

This debate is tantamount to an unarmed pedestrian going up against that butcher guy from Anarchy who has a giant machine gun in the back of a big rig: The pros decimate the cons. The financial rewards of The Purge series, and especially the performance of the most recent movie, make it hard to imagine shuttering the operation at this point. Even if DeMonaco isn't interested in going another round, it's worth finding a new director — the franchise could be a nice mid-level, low-stakes stepping stone for an indie filmmaker looking to follow up a festival darling breakout, offering an opportunity to play around in a proven brand's sandbox and leave his or her own mark. In any case, there aren't a lot of sure things in Hollywood these days, especially ones that don't require comic-book rights. It would be foolish to purge one of the few that exist.