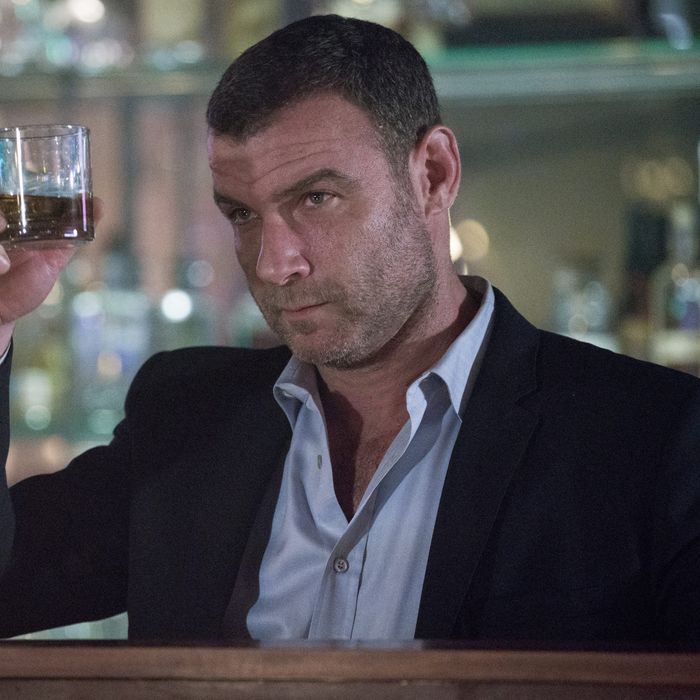 Liev Schreiber as Ray.
Photo: Michael Desmond/Showtime
This week's Ray Donovan is punctuated by high-profile guest stars — Dabney Coleman, Diane Ladd, and the return of Hank Azaria! — but it finds its best moments in the delicate relationships between its central characters. From Terry's (Eddie Marsan) disappointment at not being chosen as his new grandchild's godfather to the great scene between Ray (Liev Schreiber) and Abby (Paula Malcomson) that ends the episode, the Donovan family is what matters. They will always be the foundation of this show. You can bring in as many guest stars as you want, you can offer a dozen plot twists, but the Donovans ultimately make the show hum.
Though it's been quite a while, this season is still in something of a transitional state, bridging last season's action to the current story lines. We finally learn exactly how that's going to happen, as this episode ties last year's Armenian subplot into the Primm casino job by way of a malevolent art dealer. Convoluted? A bit, but Ray Donovan has always been a show that straddles the line between coincidence and happenstance.
Where are we to start? Hector (Ismael Cruz Cordova) and his half-sister Marisol (Lisa Bonet) are having sex; Lena (Katherine Moennig) and Avi (Steven Bauer) are surveilling the District Attorney to get Belikov (Pasha D. Lychnikoff) out of prison; Abby is smoking, drinking, and looking wistful. She affirms to Ray that she doesn't want to get the treatment recommended by her doctors for stage-zero cancer. It's a nice, long, tender scene, bookended by a similar one at the end of the episode.
In between, Ray has to figure out how to keep his family safe from Sonia (Embeth Davidtz), now ready to destroy them because he put her middle man in jail. There is one way, of course: Given that he actually committed the crimes that he framed Belikov for, he could just turn himself in. Or he could try to kill Sonia. Neither seems like a good option, so he encourages Lena and Avi to find something to leverage the D.A., but they're not having any luck.
Meanwhile, Mickey (Jon Voight) is headed back to Los Angeles to meet his granddaughter, and entice his sons to help obtain the casino money that his partners swindled from him last week. Before he can do that, he has a road trip with the manager of the "Pink Motel," played by the legendary Diane Ladd. After saying he looks like Paul Newman and agreeing to give him a ride to L.A., she pulls over and basically demands oral sex instead of gas money. Never one to cringe from a challenge, Mickey says, "Let the good times roll."
Ray and Abby meet their niece, Maria, at the fight club, where Bunchy (Dash Mihok) reveals that he wants Ray to be the godfather to his first daughter. Remember, just last week, when a man was killed in Ray's foyer and the family had to go into hiding to stay alive? Understandably, Teresa (Alyssa Diaz) isn't overjoyed that her husband has chosen this family to raise her daughter should they pass away. And Terry is a bit hurt, reminded both of his status as a bachelor and of his Parkinson's. Even Abby seems a bit reminded of her own mortality. It's an awkward, interesting scene — again, one that focuses on the increasingly well-defined characters at the center of the show.
Ray needs another option to make Sonia happy. He goes to Ezra's house, encountering Deb (Denise Crosby) for the first time since she yelled at him at Ezra's funeral. He makes chit-chat, but he's there for a reason: the safe in Ezra's closet, which contains tapes that Ray can use for blackmail. Did he know exactly which tape he was looking for, or did he just know that Ezra might have something usable? Whatever the case, he finds a tape of a powerful actor (Dabney Coleman) confessing to murdering his wife decades earlier. He takes it to the actor, who has power over the D.A., and convinces him to use that power, but the plan backfires when the troubled, guilty man confesses to the attorney instead of playing along.
While all of this happens, Mickey tries to get his sons to help with the Primm money and Abby goes on a girl's night out with Lena and Lena's ex-girlfriend, Gina (Lisa Lynch), a breast-cancer specialist. At first, Abby is pissed, but after a few drinks and a quick make-out session with Gina, she seems to come around. To be blunt, I don't buy most of this narrative. Family isn't reason enough to avoid all risk, but Abby thinks twice once she realizes she won't be able to have crazy nights out? It feels overwritten, even though Malcolmson does her best to sell it.
In a show that always juggles multiple subplots, we also get a scene in which Ray has to resuscitate a nearly overdosed Hector. Ray convinces him to keep fighting his demons for the sake of his daughter. How the writers tie the Hector/Marisol subplot into the Mickey/Primm and Sonia/Belikov subplots will be interesting to watch, although I'm already concerned that they'll just let it drift away, like they did with Ian McShane's unsatisfying arc last season.
Of course, we can see the connections coming: Mickey is back in town, trying to tell his boys that there's a lot of money in the Nevada desert waiting to be reclaimed, while Ray is looking for a lot of money to either pay off Sonia or get Belikov out of jail. Who might he pay that money to now that his blackmail deal is dead? None other than Ed Cochran (Hank Azaria), the former agent with blackmail material that makes Ezra look minor league. To get what he needs from Ed, Ray doesn't just need a large bag of money — Ed forces him to sing Bob Seger in a karaoke bar, just for fun. I was hoping for "Turn the Page," but "We've Got Tonight" does actually seem resonant. Kudos to the writers for turning it into a montage over all of our characters, most of whom are living in and for the moment.
And then there's that final scene, after Ray tells Mickey that he'll help him in Primm, when he comes home to find Abby, smoking and wistful again. Schreiber and Malcomson feel like a real couple. They've been through a lot together, but their love resonates, not just through the chemistry, but through the nuanced choices each actor makes. When Ray says, "I don't want you to die," Schreiber almost swallows the line, knowing that Donovan isn't a man comfortable with melodrama or emotion. As they sing "We've Got Tonight" to each other, it's one of those scenes that really shouldn't work, but does through the sheer talent of the people playing it.
Other Notes:
When Abby briefly mentioned the blood in her house, I started to wonder if her mortality might make her a liability. What if, faced with reconciling a mortal sin before death, she confesses to the wrong people?
This is another transitional episode, but it's an effective one by virtue of being character-driven and thematically focused. Also, Bob Seger rules.
The confident hand of director Phil Abraham helps, too. This was his first Ray Donovan in two years, but he's also directed for The Killing, Mad Men, Bates Motel, Orange Is the New Black, and Halt and Catch Fire.
Not that long ago, "MAJOR GUEST STARS!" was a major selling point for a show. It's interesting that, in this era of prestige TV, a show like Ray Donovan can give Diane Ladd and Dabney Coleman what essentially amount to cameos. I'm not against it — they were both great. It's just unusual.