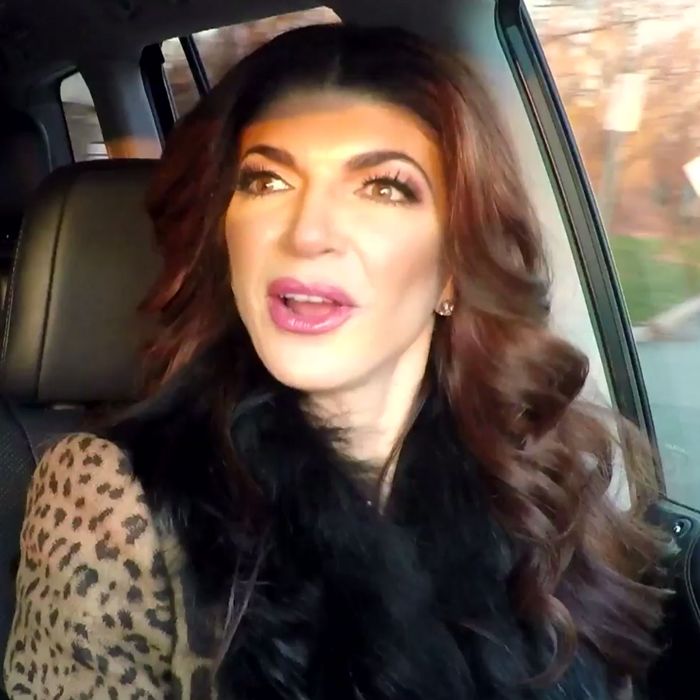 Teresa Giudice.
Photo: Getty Images
If I could turn back time, I would rewrite last week's recap to focus exclusively on the Teresa-Melissa kitchen confrontation. It was real (or at least "Real") and it was interesting and it was happening on the actual episode being aired. But no, I had to open my dumb mouth and backtrack, finally having my say on ancient history like Teresa and Caroline and Teresa and Kathy. And now, after one of the most boring nothing-is-happening episodes in recent memory, I am up the creek. Remind me to save that trick next time.
I guess it's worth discussing that Teresa and Jacqueline officially reconcile, as in they both formally acknowledge a desire to be friends, instead of that not-at-all-fifth-grade concept of "civil acquaintances." It's hard for me to believe in this pact. Teresa has all the power, and I just don't think she gives a fabellini about Jacqueline. Jackie was a fair-weather friend. As long as she plays Polly Peacemaker, Teresa will go along with it, but I smell trouble brewing. When an inevitable conflict erupts, this flimsy alliance will be the first sacrifice to the Bravo ratings gods. Don't believe me? Listen to the music underscoring their Ladies Who Latte moment — it's not cute.
Oh, I know what else to talk about! We finally get to know Siggy a bit … a very tiny, little bit. But guess what? She seems cool. It's not a big surprise, given her well-timed face-lift, but it's still nice to see.
So, Siggy was born in Jerusalem. Mazel tov! As we Jews say on Passover, dayenu. (It rhymes with "guy GAY jew.") In this case, it would have been enough if Andy Cohen had given us new Housewife Dolores in all of her straight-talking, sassy, Paterson glory, but he gave us her hot son and even hotter ex-husband, who seems ripe for a late-season love rematch. It would have been enough if Andy Cohen had given us new Housewife Dolores (straight-talking, sassy, Paterson), but he gave us video footage of her on the show several seasons ago — interacting with a Manzo boy, no less — to prove she's not just some central-casting rando. And most important, it would have been enough if Andy Cohen had given us new Housewife Dolores (S.T.S.P), but he gave us her 102-year-old grandmother, who's still quick as a whip and sharp as a tack. She single-handedly turns Dolores's scenes into the A-story, virtually guaranteeing her place as a fan favorite soon to be featured on The People's Couch. Welcome to television, Grandma. I stand in ovation, most respectfully, your gay.
On the less interesting end of the filler spectrum, we find Melissa's fakakta boutique, Envy. (Wow, this is the Jewiest recap ever. Oy vey.) I don't know what's worse: the fake "Joe wants his wife barefoot and pregnant" kerfuffle, or the power struggle between Melissa and her business partner whose name I refuse to say because I've already claimed it as a nickname for Jacqueline. (Hint: It rhymes with tacky.) I do want to take a moment to give out the Real Housewives Institute's Citation for the Fastest Conflict Resolution Ever. Tacky didn't even take enough time to smoke one of Janeane Garofalo's fast-burning Romy and Michelle cigarettes before capitulating to Melissa. Even the producers didn't have the heart to cut in some other scene before bringing us back to the boutique drama. No. One. Cares.
I feel bad that I'm harshing on Melissa so much, since I'm pretty into her right now. Thank you, Jesus. I mean, Moses. She's taking the high road with Teresa — and not in a lame, Jackie Faux-nassis kind of way. Melissa has warmth and ease and even a little wry commentary. (Some of her interview thoughts are spot-on, like how Tre just wants her relationship with La Laurita to "move it along.") Also, I've said before, but I'll say it again: Melissa is just fricking gorgeous. I mean, I don't notice girls, but dang.
Oh, yeah, you know who else gets Teresa? Rosie! Ro! My boo, my bae, Ro Ro. After all the hysterics last week, Rosie finally conceded that Teresa doesn't hate her — she just don't care one way or the other. Teresa cares about four things and four things only: Gia, Gabriella, Milania, and Audriana. Maybe Joe. And Joe. And Gino and Joey and Girl Joey. And her parents. Maybe some of Joe's family. Hell, throw in Melissa too, but that is it.
Still, Ro Ro deserves mo mo. Like a show show of her own.