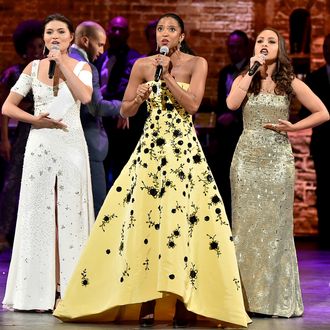 Goldsberry performing at the Tony Awards.
Photo: Theo Wargo/2016 Getty Images
Renée Elise Goldsberry continues to ascend. Earlier in July, it was announced that she would leave her Tony Award–winning role in the Broadway super-smash Hamilton to join a new Netflix original series called Altered Carbon, a science-fiction thriller based on the book by Richard Morgan. And now Deadline reports that Goldsberry will play the titular role in the HBO movie The Immortal Life of Henrietta Lacks, about a woman not many people know, but whose cells have been used to develop such groundbreaking technologies as cloning, gene mapping, in-vitro fertilization, the polio vaccine, and more. Lacks died of cancer in 1951, but the unique cells removed from her during a biopsy, eventually called the HeLa cells, became the first ever to be reproduced in a lab setting and laid the foundation for modern-day biotechnology. But the HeLa cells were taken and cultured without the permission of Lacks or her family, and the movie, based on the book by Rebecca Skloot, weaves together medical ethics, poverty, and racism in mid-century America, and connects those themes to one of the greatest scientific discoveries of the past century. Goldsberry is charting a path through American history, and possibly, to an EGOT.