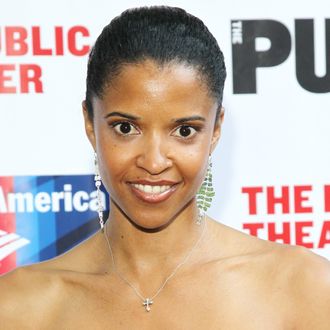 Photo: Bennett Raglin/Getty Images
Renée Elise Goldsberry is getting ready to work, work for Netflix. Goldsberry, known for her Tony Award–winning role as Angelica Schuyler in Hamilton, will be leaving the musical at an unspecified date in the fall to join the streaming service's newest sci-fi drama, Altered Carbon, according to The Hollywood Reporter. She'll be playing a master strategist and revolutionary named Quellcrist Falconer in the ten-episode series, which is set in the 25th century and described as "what happens when the human mind becomes digitized and the soul is transferable from one body to another." (It's based on Richard Morgan's 2002 novel of the same name.) She'll be starring opposite Joel Kinnaman, who plays "an ex–elite interstellar warrior" named Takeshi Kovacs who has been "imprisoned for 500 years and is downloaded into a future he had tried to stop." The two are also lovers. Laeta Kalogridis will write, executive produce, and be the series showrunner.
The news comes hours after it was announced that Daveed Diggs, known for his Tony Award–winning dual role of Lafayette and Thomas Jefferson, would be leaving Hamilton on July 15. Make sure to see them … "One Last Time" … before they go.