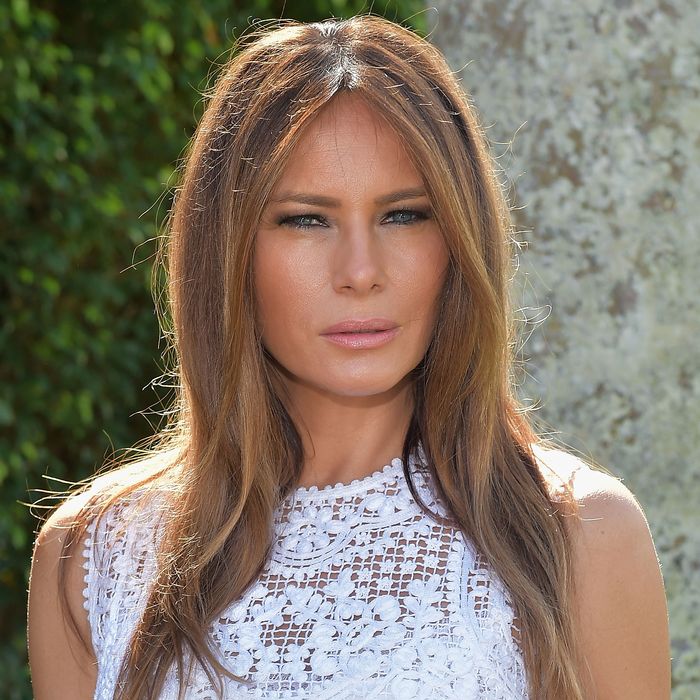 Melania Trump attends Trump Invitational Grand Prix Mar-a-Lago Club at The Mar-a-Largo Club on January 4, 2015 in Palm Beach, Florida.
Photo: Gustavo Caballero/Getty Images
This week, New Girl creator Liz Meriwether will be in Cleveland covering the Republican National Convention for Vulture.
The first day of the Republican Convention hasn't finished and I have already seen one pair of pink pants, seven cowboy hats, and two rifles. I have watched Joni Ernst methodically eating a piece of bacon. I have been busted for trying to take a copy of the platform off the convention floor. I have had my umbrella confiscated. I have overheard a conversation about whether or not Tory Burch shoes were "stiff" or not. The conclusion: Some are and some aren't.

Women were out in full force today. Maybe a little quieter than the men. (I did see a fully grown man in a polar-bear costume and one man lead another man around on a leash and ask people to "kick his dog for Donald Trump.") But Trump's female supporters are present and passionate. In the Quicken Loans Arena, tonight is officially "Make America Safe" night, but with Melania Trump speaking, a lot of the pro-Trump women hope it becomes "Make America Believe That Trump Is Not a Sexist" night.
I listened to a woman in a Make America Great Again hat sitting in a lawn chair talk about how the rapture is coming ("There are a lot of indicators"), and how, "God's taking ten people, and I am going to be one of the ten." This country, in her mind, was in "deep doo-doo shit." Hillary was a "satanist witch." A man with a T-shirt that read "Shut Up, Drink Up, Pucker Up" listened to her and nodded. I don't think they were a couple, because, as she put it: "I belong to God, so I could care less about having a man."
I saw more of tea-party activist Tricia Cunningham than I wanted to when she had a self-described "Marilyn Moment" with her dress onstage. Putting politics aside, I felt for her as she tried to MC the event while holding her skirt down.
And I spoke to a lot of people — women and men — who were excited to observe the national-television debut of a certain potential First Lady. "I think there have been a lot of accusations that Donald Trump is a sexist and a misogynist," Robin Bobula, a rally attendee from Pittsburgh told me. "I think she could speak to that — his respect for women." Another attendee, Cody Ragel, agreed. "Democrats make it look like Republicans don't care about women. I think a good message for Melania is being pro- something doesn't mean you're anti- anything."
The people I spoke to didn't seem to know what Melania might actually talk about. I asked a Trump supporter named Roxanne Perry which issues she thought Melania would bring up tonight, and she shrugged. "I really don't know." She was interested to see "where she is connecting with the women of America. Just to see how she relates to us." Can a Slovenian model married to a billionaire ever find a way to connect with the women of America? Does she really need to? Many of the women I spoke to today didn't want a sense of connection with Melania; instead, they seemed content for her to be a symbol of an old-fashioned idea of what it means to be a woman, a wife, a mother. Jackie O. came up a few times.
"I think she wants to be a First Lady that's more ladylike, not as aggressive as Michelle Obama has been," a gentleman named Owen Shroyer told me. "She'll sit there and be more classy. I'm not sure if she'll be as outspoken as a Jackie Onassis Kennedy was, but she carries the same class. She wants to epitomize what the American lady should represent and should behave." Linda Christopher, the mother of a former Miss Indiana, predicted First Lady Melania would be "more like a Jackie O — just classy and beautiful and always by his side and supporting him."
Make American Women Beautiful, Classy, and Quiet Again! It was hot in Settler's Landing Park. By the time I was finished speaking to many of these women, I'm sure I looked completely insane — my face was sunburned and wet with sweat, and my body smelled a way that it hasn't smelled since I was 14 and wearing a bra I made out of an undershirt. Many of the women I spoke to had been sitting out in the sun for hours, and with all due respect, none of us were looking our best. As I listened to them tell me their memories of Jackie and their dreams of what Melania as First Lady would look like, it sounded like a wonderful, magical world where people were always cool and clean and composed. It sounded beautiful and glamorous and a million miles away from this muggy Cleveland park filled with men sweating into their hateful T-shirts. I got lost in the dream for a second. Then, I realized that I just really, really needed some air-conditioning.