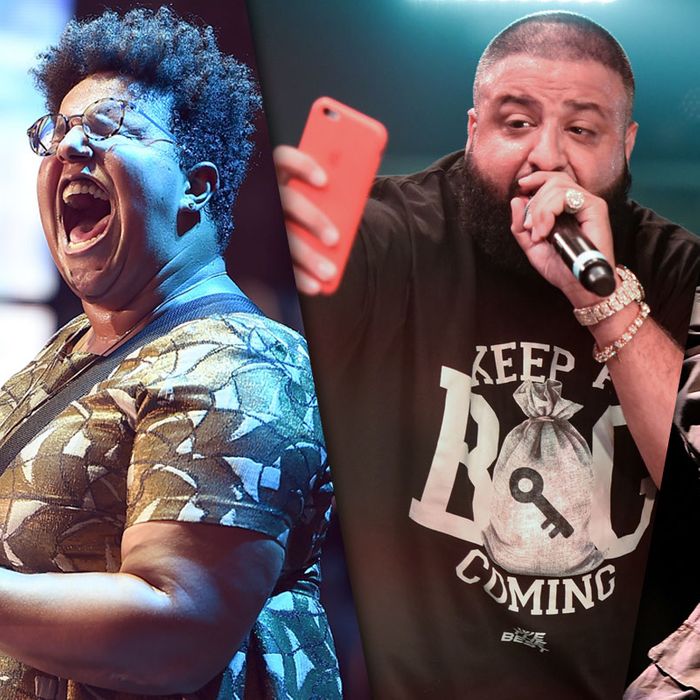 Alabama Shakes's Brittany Howard, DJ Khaled, Kendrick Lamar
Photo: Getty Images
This weekend marked the inaugural edition of the Panorama Music Festival out at New York City's Randall's Island Park. Brought to life by Goldenvoice — best known to music fans as the team behind California's annual Coachella Music and Arts Festival — the first Panorama went swimmingly despite the sweltering July heat, which pushed temperatures well into the 90s for much of the weekend and transformed even the most euphoric of live sets into a war against the weather. Those fans able to brave the elements (aided by strategic bastions of air conditioning and free water) were treated to an eclectic weekend of performances by greats like Kendrick Lamar, Arcade Fire, Alabama Shakes, Sufjan Stevens, and many more.
The festival took place around three stages and an expanse of food carts and dazzling digital displays. You quickly noted the ins and outs of the grounds in order to make it through a day of frying in the sun. A dark disco space called Despacio — Spanish for "slowly" — was air conditioned and playing just the strangest mix of tunes: One afternoon people cooled off to cuts from Steve Miller Band and on another, they embarked on a house-music odyssey. Staff near the gate would toss you a free water if you needed it, and there were free refill stations if you hung onto your bottle. Between two smaller stages, on the opposite end of the park from the main stage, was a shady, hilly patch perfect for grabbing a bite and watching graffiti artists paint a wall of digital train cars in a tribute to the pre-internet era, when the subway system doubled as New York City's premiere street-art gallery.
The Panorama main stage was surrounded by giant HD screens that could either broadcast footage from the stage to festivalgoers across the park, or color a performance with background imagery. (Its most intriguing users were Saturday headliner Kendrick Lamar — who offset activist raps with a subversively political battery of monochrome images of misbehaving American leaders — and pop songsmith Sia, whose center-stage performance mirrored preshot, heavily choreographed dance sequences shown on both screens.) The partially open-air main stage lacked shade but permitted wind. The smaller Pavilion stage's gable roof provided cover from the sun but greatly restricted the movement of air, turning the place into a sweatbox, especially for Kendrick affiliate Schoolboy Q, who angrily called out his Friday evening audience's lack of engagement. Nearby, the big top Parlor stage showcased DJs under fans and air conditioning, if you were one of the lucky few to make it inside.
On Friday night, Parlor hosted DJ Khaled for the weekend's most bafflingly enjoyable performance. Not quite a DJ, a rapper, or a producer, Khaled's chief skill is essentially radiant magnetism. He plays fixer and hype-man on records, bringing more acutely talented acts together to shine. This isn't a skill that should translate well in a solo live setting, but the man's outsize energy and quirky catchphrases turned Parlor into a madhouse even after a disheartening 20-minute delay blamed on "walking through security." A frantic sequence of tiny bits of rap hits gave way to appearances from Atlanta rapper T.I. and local heroes Fat Joe and Remy Ma, who led with their popular summer single "All the Way Up" and ran through a gauntlet of hits they didn't seem prepared to perform. "I know you only came for one song," our maestro told his guests, "but I have some requests …" When Khaled comes calling, you never say no.
To catch all of Saturday night's wide-ranging charms, you had to hoof it back and forth across the park between sets from soul singer Anderson .Paak, R&B/new-wave architect Blood Orange, hip-hop/EDM duo Flosstradamus, indie-rock elder statesmen the National and Sufjan Stevens, and the Kendrick Lamar closer. Each crowd carried a different character. Bohemians of all stripes suffered the afternoon sun for a glimpse of Blood Orange figurehead Dev Hynes, and he delivered coolly and beautifully, twirling freely through microphones, guitars, and pianos while singing of self-love and acceptance. At Flosstradamus, a sea of bros delighted in the juxtaposition of bar jukebox mainstays like the White Stripes' "Seven Nation Army" and the hardest of trap tunes. Later, the same stage saw Sufjan deftly inject songs from last year's somber Carrie & Lowell into the neon daydream of his Age of Adz stage show, attacking both the deathly "All of Me Wants All of You" and the titanic "Impossible Soul" with a mix of costume, composure, and craftsmanship. Kendrick lacked Stevens's musical-theater flair but showcased similarly technical excellence as he and his band tore through choice selections from his jazz- and hip-hop-flecked studio albums.
Panorama's Sunday evening closer was perhaps its most hotly anticipated act. Newly reunited New York dance-punk outfit LCD Soundsystem made a full-fledged return to New York following two semi-secret Webster Hall warm-up shows earlier this year. Over nearly two hours, singer/producer James Murphy, singer/keyboard player Nancy Whang, drummer Pat Mahoney & Co. partnered mechanical precision with stunning range. The set list sprawled across early singles "Yeah" and "Daft Punk Is Playing at My House," emotional mid-career tearjerkers "Someone Great" and "New York, I Love You But You're Bringing Me Down," a Suicide cover dedicated to the late Alan Vega, and a wealth of dance-floor scorchers like "Us v Them," "Get Innocuous!" and "Dance Yrself Clean." LCD's emotional dance party was a fitting farewell to a weekend of sweat and triumph. Year one of Panorama Music Festival was an endurance test, a winner's game for the patient. Next year, pray for a light chill and a dusting of cloud cover.