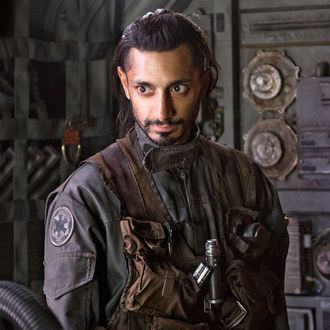 At Star Wars Europe Celebration 2016 today, Lucasfilm trotted out the whole gang working on Rogue One: A Star Wars Story, sat them onstage, and then made Gwendoline Christie interview all 900 of them.
Riz Ahmed, the ascendant English actor currently starring in HBO's The Night Of, was one of those Rogue One panelists. In the new movie, he plays a character named Bodhi Rook, the lead rebel pilot. The character has been described in early press as hot-headed, so it was fitting that, when Ahmed's two minutes came around as Christie worked her way through the cast, he was ready with the hot zings.
Zing #1
"Your acting career has included roles in acclaimed indie films like Four Lions, The Reluctant Fundamentalist, Nightcrawler, and The Night Of," Christie said, teeing him up while an audience member loudly applauded his list of credits. "What attracted you to this film? Why a Star Wars movie?"
"Um," Ahmed said, "I thought, just to kind of change it up, it would be good to do a film that other people have seen, apart from just that one guy who was shouting."
Hey, Nightcrawler earned $38 million worldwide! That's over … 1.8 percent of what The Force Awakens made!
Zing #2
After that self-deprecating zing, Ahmed got serious, in preparation for zing #2: "I mean, who doesn't want to do these films: They attract the best talent across the board, and also Alan."
Alan Tudyk plays a droid in Rogue One; in real life, he plays a man who just got zinged by Riz Ahmed.
Zing #3
With Tudyk zinged, Ahmed got down to brass tacks: He praised director Gareth Edwards's work, then fielded a question from Christie about an Imperial patch he was wearing in some of the photos of his character. What's the deal with that?
"I can talk about this, can I? A little bit?" Ahmed asked Kathleen Kennedy and Edwards, wisely protecting himself against obliteration by Disney's elite Secrecy Corps.
"Bodhi is a pilot, and he works for the Empire to earn a living," Ahmed said, after getting the okay. "People work at big organizations; they don't agree with everything they do."
Riz Ahmed zinged Disney and Lucasfilm … right under their noses. At their own event. While Ben Mendelsohn was wearing a cape.
"You don't have to get judgey," he said, after the applause and laughter had died down. May the zings be with you all this weekend — because they're sure as hell with Riz Ahmed.