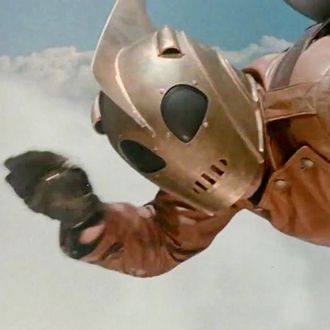 The original flyboy.
Photo: Disney Productions
Hey, remember The Rocketeer? That early '90s movie about a dude in the 1930s who fights Nazis with a jet pack and a gold helmet? It's technically a superhero story, and it was based on a comic book, so of course it's getting eyed for a reboot during Hollywood's slow march toward Peak Superhero. The Hollywood Reporter has a report that Disney is looking to do a new take on the story that would retain the period-piece trappings of the original (directed by Joe Johnson, who did a similar thing with Disney/Marvel's Captain America: The First Avenger) but add a new twist: This Rocketeer would be a black woman.
Max Winkler and Matt Spicer are working on the script, with Brigham Taylor and sports stars Blake Griffin and Ryan Kalil producing. Much like Jurassic World, the movie would also act as a sequel to the original, set six years later. After the original high-flyer disappears, the protagonist dons the rocket in "an attempt to stop an ambitious and corrupt rocket scientist from stealing jetpack technology in what could prove to be a turning point in the Cold War." Given the current state of relations between the U.S. and Russia, her battle might end up being a little too timely.