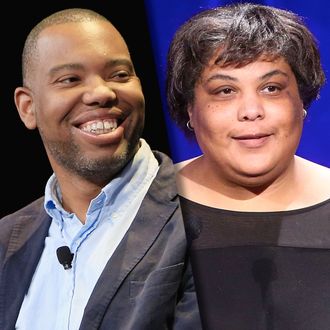 Marvel stars.
Photo: Getty Images
Marvel Comics recently found itself in hot water over its total lack of black women in writing positions. Indeed, geek journalists and historians struggled to think of a single black, female writer to ever pen a Marvel series. But that streak is about to end — and the woman to end it is one of the highest-profile progressive firebrands in the writing world.
Marvel just announced that Roxane Gay — author of Bad Feminist, An Untamed State, and the upcoming Hunger — will be co-writing a superhero series called Black Panther: World of Wakanda. The other writer will be none other than Ta-Nehisi Coates, a fellow acclaimed nonfiction author and thinker and the writer of Marvel's best-selling Black Panther. It'll build out the world Coates and artists Brian Stelfreeze and Laura Martin have been exploring in Black Panther, and will be illustrated by another woman of color, Alitha Martinez. It will follow the adventures of two of the titular African monarch's former soldiers, Ayo and Aneka, who happen to be queer women.
Further bolstering the new series' inclusive bona fides is a so-called "backup" story that will run at the end of the first issue, co-written by Coates and poet Yona Harvey, and illustrated by Afua Richardson. Both of the latter are black women. It's set to debut in November, and given the way production and hiring schedules work, the timeline is too short for it to have been created as a response to the recent backlash. Gay and Harvey have no experience in superhero comics, so it'll be interesting to see how they fare — and how their hirings are received by the company's critics.