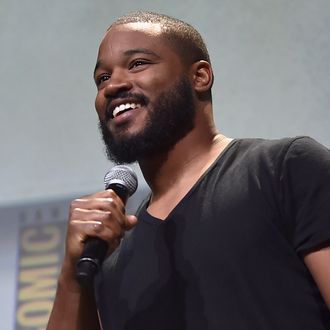 Coogler, Coates fan.
Photo: 2016 Getty Images
One of the highlights of Marvel's massive Hall H panel at San Diego Comic-Con was the Black Panther portion, when an array of exceedingly talented black artists — actors Chadwick Boseman, Lupita Nyong'o, Michael B. Jordan, and Danai Gurira; and writer/director Ryan Coogler — stood side by side to hype up the studio's first majority-black-cast film. It's set to be released in 2018, but superhero fans already have a critically acclaimed and best-selling Panther story to tide them over: the current Marvel comic of the same name, written by MacArthur Genius Ta-Nehisi Coates, penciled by Brian Stelfreeze, and colored by Laura Martin. As it turns out, Coogler's a big fan.
"Oh, I love it, man," the filmmaker said when I asked him what he thinks of the series. "I mean, he's my favorite writer right now in the world. Since being turned on to his work, I'm reading everything that he does. His nonfiction work, especially. But what he's doing with Panther is just incredible. You can really see his background as a poet in some of the dialogue. And what Brian Stelfreeze is doing with the visuals in that book. And some of the questions that it's asking. It's just inspiring for [co-screenwriter] Joe Robert Cole and myself."
"So, it's influenced the way you think about the character?" I asked. "Absolutely, absolutely," he replied. "What's so great about Panther is he's a superhero who, if you grab him and ask him if he's a superhero, he'll tell you, 'No.' He sees himself as a politician, as a leader in his country. It just so happens that the country is a warrior-based nation where the leaders have to be warriors, as well, so sometimes he has to go fight. I think starting at that is really so interesting. If you look at that, anything that's happening in the world right now, or in the world in the past, in the political realm and how people deal with each other, it can be an inspiration."