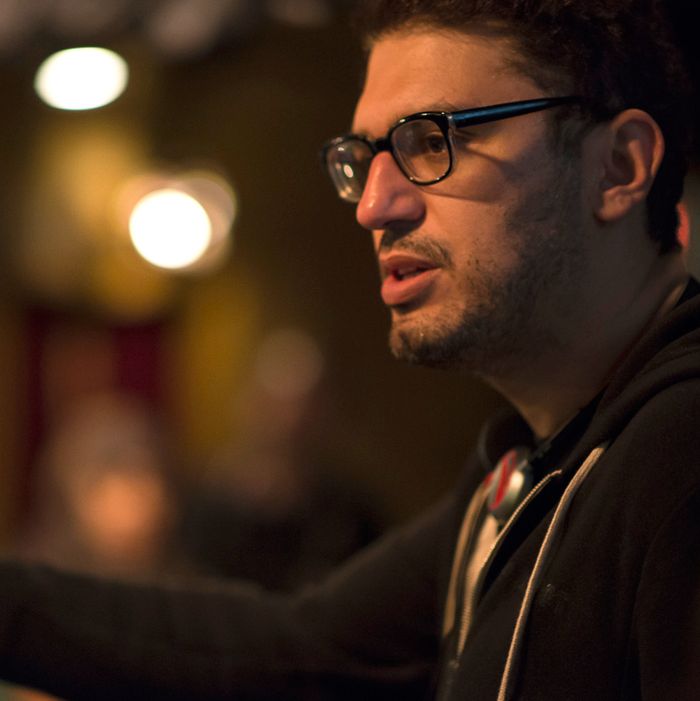 Sam Esmail, mid-filming a Mr. Robot scene.
Photo: (c) Scott McDermott/USA
Portia Doubleday is really tempted to turn her face and stare straight into Michael Cristofer's eyes. "You know, like, what are you gonna do now?" says Doubleday, who plays Angela. They're in the middle of filming the restaurant scene in Wednesday night's episode of Mr. Robot, in which E Corp CEO Phillip Price, played by Cristofer, tries to intimidate her. But then, she thinks better of it.
"Michael would probably start laughing, and then I'd hear [director Sam Esmail] go, 'Portia, no!'" says Doubleday, on the March night the scene was filmed at Zio, a restaurant in Manhattan's Flatiron district. "Sam actually screams when you're not doing something right. He just goes 'Portia!' like that and you're like, okay." Esmail, the show's creator, showrunner, head writer, and director of this entire season, doesn't raise his voice out of anger, she explains — it comes from a place of passion. If Doubleday had seriously thought the move would enhance the scene, she would have tried it. "I trust Sam, and when you trust someone so implicitly, it gives you the freedom to take risks and be yelled at because," she explains, "at the end of the day, I might come up with something and he'll keep it, or he might say it doesn't work."
In this scene from "eps2.1_k3rnel-pan1c.ksd," Angela shares a semifreddo at an upscale Italian restaurant with Phillip and two other E Corp executives, a meal designed to manipulate her into seeking revenge for her mother's death. Like the rest of the characters on the show, Angela finds herself at a crossroads after her life spiraled out of control last season. She's taken a job as "Evil" Corp's PR manager, but it's unclear whether she's fully joined the team or if she's planning something more sinister.
Later, Doubleday's scene partner takes a small acting risk that does pay off. The script called for Phillip to tell Angela he has evidence that can convict the other two dinner guests, hand her a CD, and walk away from the table. When she says she doesn't trust him, the scene directions call for Phillip to walk back, stand in front of her, and tell her he thinks she'll see it another way when she calms down. In the moment, Cristofer goes for a slightly different delivery — when he returns to the table, he leans into Doubleday, and whispers his lines into her ear: "You're panicking right now. I understand. It's a big decision you're making because these men, their lives will be destroyed. But the minute you remove emotion from this, you'll do just fine."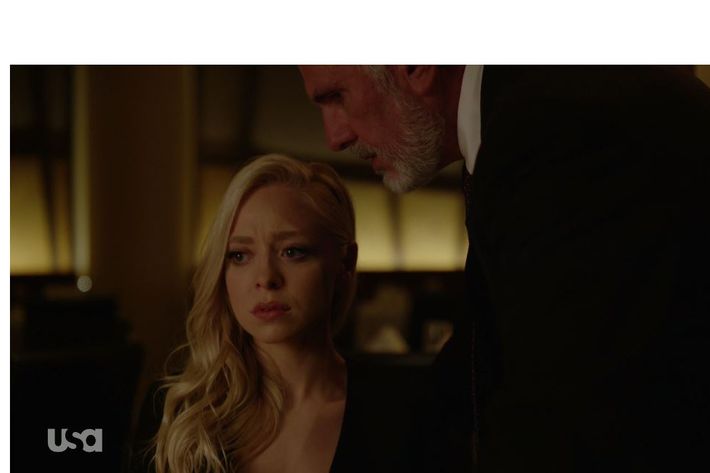 "And cut! I love this!" yells Esmail, leaping out of his director's chair. He walks over to the table at the center of the restaurant to ask Doubleday what she thought of Cristofer's tweak. "It was terrifying," she replies, her eyes wide. Esmail asks Cristofer to do it again, except this time more slowly.
Weeks later, Doubleday says, "I can feel it in my body right now. I remember it sent a shock through my body, as if I was paralyzed. His character is so unpredictable, and as much as she tries to figure out what his next moves are going to be, she can't," she says. "In that moment, she's trying to keep her composure and not look weak. There was a part of me that wanted to laugh because it was so intense, it was so uncomfortable. And at the same time, I was really attracted to him, because I think Angela is really attracted to the qualities he has — the power — and she wants that for herself."
"There is something personal going on," Cristofer adds. "I felt that as much as he wants to manipulate her, he wouldn't mind being manipulated by her. In the writing there was something that said, this is more than pushing a pawn around a chessboard. There is something intimate and sexual going on here. That's what I played and what I incorporated into pretty much everything I did with Portia this season."
Part of his job, Esmail says, is to let actors co-create their characters, which is why he encourages a collaborative spirit on set. "It's strange not to allow the actor some input and breathing room into what was written on the page — it is their job to make it come alive," he explains. "I thought what Michael was doing was odd, and when somebody does something unusual in life, it makes me notice. It was striking and it took me back. I live for little surprises like that in a scene."
The showrunner surprised the cast when he announced that, in addition to all his other jobs on the show, he would also direct all 12 episodes of the sophomore season. Esmail, 38, who directed the indie film Comet and three episodes of Mr. Robot's first season, says he's spending as much time on set as he always did, but now he's being more efficient. "I know when it comes to TV, the writer is king, but to me, the filmmaker is king," he says. "It's the entire thing — directing, cinematography, props design, production design. You have to make it all blend and work. And it's really hard to do that if you're not directing all of them because you're continually having to translate the tone and message of each episode to other people."
It also allows for Esmail and director of photography Tod Campbell to work even closer together on the show's distinct visual style, which enhances a mood of isolation and confusion by placing characters at the bottom or to the side of the screen. "We frame things in an off-kilter way because it's unsettling," Esmail explains. "In the Mr. Robot world, that's the norm, and it's the norm for the point of view that we're looking for, which is Elliot's. With our compositions and our visual language and camera movements, it's important to always evoke that unsettling feeling underneath every scene."
Esmail isn't the first creative to direct an entire season of TV, but he is the first showrunner and head writer in the U.S. to take on the additional, time-consuming role. Mr. Robot's six writers, including Esmail, wrote the entire season from October to March. Then Esmail organized production in blocks so he could complete all of the season's shoots in each location before moving on — an approach they didn't take in season one. While this streamlines costs, it can be tough on actors because filming is done out of order.
"In our first week [of filming], I was on set with Sam at the end of shooting a very difficult scene in episode nine," said the show's star Rami Malek, who plays mentally ill hacker Elliot Alderson. "I grabbed him and asked if I could have a moment. We walked away from the monitors and I said, 'I feel pretty confident in what I'm doing, but I would not want to be shooting a scene from so far down the line under any circumstances. Having you here gives me the resolve and it elevates me to say that I can do it.' And that's because I trust him so much. Sam's one of the smartest and most talented men I've ever come across."
Carly Chaikin, who plays Elliot's sister, Darlene, says she struggled at times with the show's nonlinear shooting. Chaikin recalls a day when they filmed scenes from three different episodes, and one required a drastically different frame of mind from the others. "That's probably one of the hardest things I've had to do — going so deep into a mindset and then having to snap out of it and go into another so quickly," she says. The benefit, Chaikin says, is having Esmail direct every episode. "Last year, when he wasn't on set, you could feel his absence. The directors we had were absolutely incredible but the story and the world didn't come from their minds."
In these moments, it also helps that Esmail is willing to let the actors experiment until they feel they've hit the tone just right. While filming the restaurant scene in Wednesday night's episode, Cristofer also plays with the idea of beginning his intimidation before Phillip hands the CD to Angela. Esmail felt this was "too much." They try it again, but this time when he walks away from the table, Cristofer can't help himself: He throws a chair across the room. (Esmail was amused.)
"Somebody asked me what it's like to work with Sam and I said, 'It's fucking depressing,'" Cristofer laughs. "It is so depressing every day to see this 38-year-old fucking genius writing and directing and imagining and getting it right the first time. Nobody should have to put up with that."