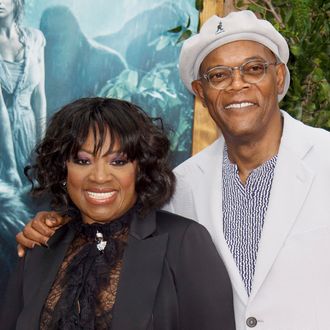 Samuel L. Jackson and LaTanya Jackson.
Photo: VALERIE MACON/AFP/Getty Images
Samuel L. Jackson (of, you know, all the movies) is developing his very own reality-TV series. Variety reports that Jackson and his wife LaTanya are developing an unscripted series where they will "take A-list celebrities back to the house they grew up in, visiting old haunts and meeting familiar faces, to explore how their childhood shaped who they are now." Now that he's expanded into reality TV, when can we expect Samuel L. Jackson's Vine series, and, after that, his very own Snapchat Geofilter?