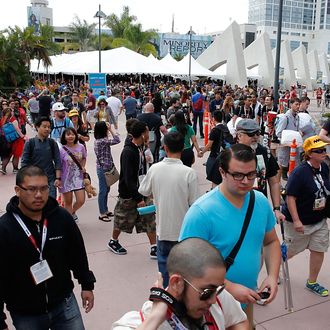 Here we go!
Photo: Joe Scarnici/Getty Images
July is here, the Southern California weather is dry, and teeming masses of nerds and promoters are mapping out their beachheads on the San Diego Bay: It's time for Comic-Con, everybody! In addition to covering the biggest news from the annual geekathon, Vulture will be presenting three panels, all moderated by associate editor Abraham Riesman. If you're planning to brave the convention center, here's where you can find us.
Friday, July 22, 10 a.m.: Keeping It Short: Short-Form Comics (Room 28DE)
Kate Beaton (Step Aside, Pops: A Hark! A Vagrant Collection), Emily Carroll (Through the Woods), and Lisa Hanawalt (Hot Dog Taste Test) are three of the most critically acclaimed cartoonists working today. Each is a master of the short form, imbuing great narrative depth into a few panels or pages of comics. Beaton, Carroll, Hanawalt, and Riesman will discuss how keeping things short can make for great stories.
Friday, July 22, 6 p.m.: Valiant's Faith (Room 29AB)
Faith is one of the past year's breakout superheroes. This stereotype-demolishing character from Valiant Entertainment has won critical acclaim, fan enthusiasm, and now, her own monthly series. But what makes her tick? Faith writer Jody Houser (Orphan Black, Mother Panic) takes a deep dive into this soaring hero's past, present, and future.
Saturday, July 23, 4:30 p.m.: Valiant Roundtable (Room 8)
Valiant Entertainment continues to be one of the biggest surprise successes in comics, rising from the ashes in 2012 and generating some of the industry's smartest, most action-packed superhero stories. Valiant creators Jody Houser (Faith), Robert Venditti (X-O Manowar, Wrath of the Eternal Warrior), Darick Robertson (Harbinger Renegades), and Joshua Dysart (Imperium), along with CEO Dinesh Shamdasani and editor-in-chief Warren Simons will describe how they construct the Valiant universe.