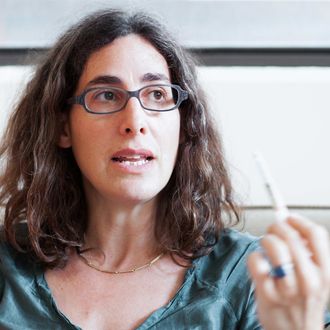 Sarah Koenig.
Photo: Meredith Heuer
Last week, Adnan Syed, subject of the first season of  Sarah Koenig's podcast Serial, was granted a new trial, more than 15 years after his imprisonment for the murder of his ex-girlfriend Hae Min Lee. Today, Koenig shared her reaction in a blog post, writing that she heard the news while Skyping with Serial executive producer Julie Synder, and that both were dumbfounded. "We weren't so much shocked because of the legal arguments," Koenig writes, "but because it was such a long shot, this outcome."
Koenig notes that this trial has been a long time coming. She first had a taped conversation with Syed two and a half years ago, and he first petitioned for post-conviction relief in 2010. She goes on to summarize Judge Martin P. Welch's new decision, noting how it centers on deficiencies in the work of Syed's attorney Cristina Gutierrez, specifically her understanding of the prosecution's cell-phone data:
To reduce his conclusion to one line: Welch found that Gutierrez's cross-examination of the state's cell phone expert at trial was so deeply deficient, and her deficiency so avoidable if only she'd employed the twin virtues of reading comprehension and attention to detail, that Adnan's convictions should be vacated, and he should be granted a new trial.
Koenig adds that Susan Simpson, working with Rabia Chaudry's Undisclosed podcast, which expanded on Serial's investigation into the case, is responsible for tracking down the cell-phone expert who testified in Syed's 2000 trial. The state, as Koenig notes, has 30 days to appeal the order for a new trial. Until then, Syed's attorney is seeking bail. "Presumably Adnan would like to await the next round — and there will be many more rounds — outside of prison," Koenig said.