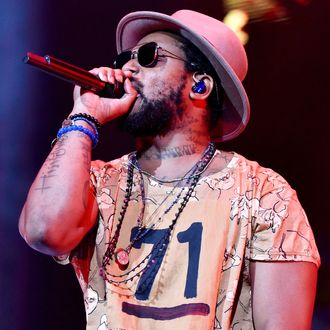 Photo: Earl Gibson/BET/Getty Images
As far as records go, in recent years Black Hippy, the supergroup of West Coast rappers gathered underneath the banner of Top Dawg Entertainment, has been more of a name than a reality. Composed of the arcane wizard Ab-Soul, tireless and forthright elder Jay Rock, twistedly intemperate Schoolboy Q, and rap messiah Kendrick Lamar, the quartet hailed as the new N.W.A has come together on wax only rarely. Since 2013 the group had appeared together exactly once, tearing through "Vice City" from last year's Jay Rock album 90059, and the prospect of a group album, long bandied about by its members and by Top Dawg executives alike, seemed distant indeed.
It's possible that things are looking up, though: Instead of one Black Hippy cut over the past four years there are now two. Last night, Schoolboy Q released a free remix of "THat Part," one of the lead singles from his incoming, second major-label album Blank Face LP. Kanye West, who featured on the original version of the single, has been replaced by Q's trio of teammates. After the puzzling and eccentric 90059, Jay Rock returns to the growling, gimlet-eyed gangsterism he mastered in his earlier work; Kendrick turns in another casual display of verbal virtuosity, weaving an intricate, near-baroque array of internal rhymes around a semi-abstract, streetwise personal narrative; Ab-Soul walks the line between genius and incoherence while keeping pace with the meandering, drowsily menacing tone of the instrumental. Then Q, batting cleanup, strikes the track with an extended verse that, while interspersing callouts to his coming album, slides smoothly from Crip set-tripping to promoting his labelmates' upcoming releases, before terminating in an acid ten-bar diatribe (evidently recorded in the past few days) directed at the men who filmed Alton Sterling's shooting instead of aiding him, the gang members who attack interloping rival sets but not white policemen, and the fact that he has to raise his daughter in a world where such things happen.
A half hour after the remix of "THat Part" dropped on Soundcloud, Blank Face LP was released on iTunes. First impressions can deceive, but it does seem that, following up on 2014's forceful Oxymoron, Q's turned the raucous energy even further up on his new album. If Q can return none the worse for wear from a two-year hiatus — an eternity in today's rap world — perhaps it's not impossible that a full-length collection from his Black Hippy team will one day arrive.