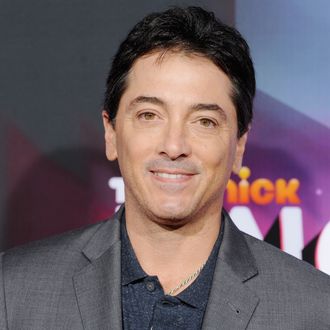 Photo: Jon Kopaloff/2012 Jon Kopaloff
Sitcom actor Scott Baio of Happy Days, Joanie Loves Chachi, and other shows you've seen on Nick at Nite, has announced that he will speak at next week's Republican National Convention. Baio revealed his support of Donald Trump earlier this year, and the presumptive Republican presidential nominee took notice. According to Baio, he was asked personally to participate by Trump: "I was at a fundraiser for Mr. Trump the other night with my wife and he invited me to speak at the convention, which was completely unexpected and out of left field," the actor told Fox News Saturday night. "He's such a regular guy, and every time I've been with him and talked to him, he's just a guy, a guy who is very successful." And really, if a New York born sitcom star turned reality-television star (Scott Baio Is 45 … and Single) with a spray tan thinks a New York–born early-aughts reality-television star (The Apprentice) with a spray tan is a regular dude, that should be proof enough. 

Ahem, Baio has an addendum. After getting raked on Twitter, Baio added a note on Facebook Monday morning, saying he wrote his speech during church on Sunday and he doesn't care what you think! He wrote:
On plane to the RNC convention. Mr Trump invited me with short notice. I sat in church yesterday and wrote my speech. I prayed about what to say to the American people.There's so many things I wanted to say tonight. However, each night has a certain topic. I know many will comment with vile hatrid & vitriol. I don't care. I want change from the last 8 years of race baiting, country dividing, and worldwide terrorist attacks killing human beings. Blacks, cops, beheading Christians. All of them. Every live matters to me. God Bless
Someone please find the first draft he wrote on the tithing envelope.