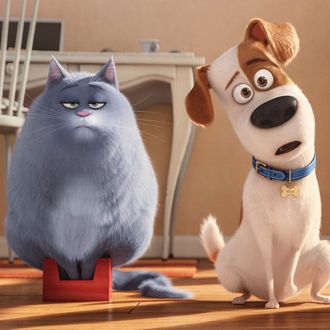 Photo: Universal Pictures
After three weeks atop the box office, Finding Dory has finally ceded its crown — to another animated movie. The Secret Life of Pets broke out with a remarkable $103 million opening, the best-ever for an original animated property. That's nearly $30 million better than Zootopia managed in its first frame back in early March, and considering how that movie has since managed to crack $1 billion worldwide, the future looks equally bright for Pets, which comes via Universal and Illumination, the evil geniuses responsible for last year's insidious everywhere hit, Minions.
The Secret Life of Pets also secures animation's domination of the 2016 box office: Already, it's the 11th-highest grossing film of the year, which means that of the top 11, five are animated: Finding Dory, Zootopia, Kung Fu Panda 3, The Angry Birds Movie, and now Pets. Four of the other six are superhero movies, and another one, The Jungle Book, is practically animated, considering that most of it is CGI. (The fifth, Central Intelligence, features Dwayne Johnson and Kevin Hart, genres unto themselves.) Last year, seven animated movies grossed more than $100 million; through half of this year, we've already had five — so by 2018, expect every film released in theaters to be a cartoon.
Elsewhere in theaters, The Legend of Tarzan continues to exceed expectations, delivering another $20.6 million, only a 46 percent drop from its debut. While that's good news for Alexander Skarsgård and Margot Robbie, who should get a nice bump from the the film's success, it still likely won't be enough to make the $180 million-budgeted behemoth profitable for Warner Bros. All the same, WB has avoided another Pan, which is its own not-insignificant consolation. Meanwhile, Mike and Dave Need Wedding Dates opened to a respectable $16.6 million, above projections and good news for Zac Efron after the lackluster performance of Neighbors 2.
The most novel newcomer to the top ten is Sultan, starring Bollywood superstar Salman Khan, which managed $2.2 million from just 283 theaters. And Captain Fantastic, the excellent festival-circuit hit from Matt Ross, won the weekend's per-theater race, averaging $24,613 from four theaters for a total of $98,451. If Captain Fantastic can continue to impress as it adds theaters, it would mark another impressive result for Bleecker Street, the young distributor responsible for the 2015 awards-season overachiever Trumbo and this year's Eye in the Sky.