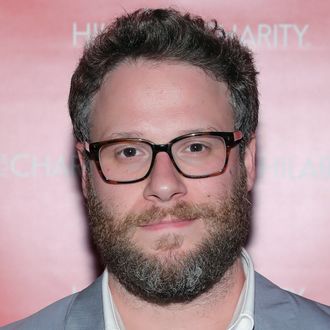 Photo: Neilson Barnard/2016 Getty Images
User @SamePhotoOfSeth joined Twitter in May, and every day for the past 43 days, the mystery person behind the account has used the handle to do one thing and one thing only: Tweet Seth Rogen the same picture of himself.
It took a little over a month to get Rogen's attention (or, at least, it took a little over a month to get a response from the star), but @SamePhotoOfSeth finally received the response they were looking for.
If we were gambling men, we'd put our money on James Franco being behind this bizarre bit of social-media performance art. (Or is it just very-alt alt comedy?) This seems a Franco stunt if ever there was one, and it may well be a nod to that time the two hung out naked in the wilderness together.
Or maybe it's just a rando internet weirdo. The world may never know.