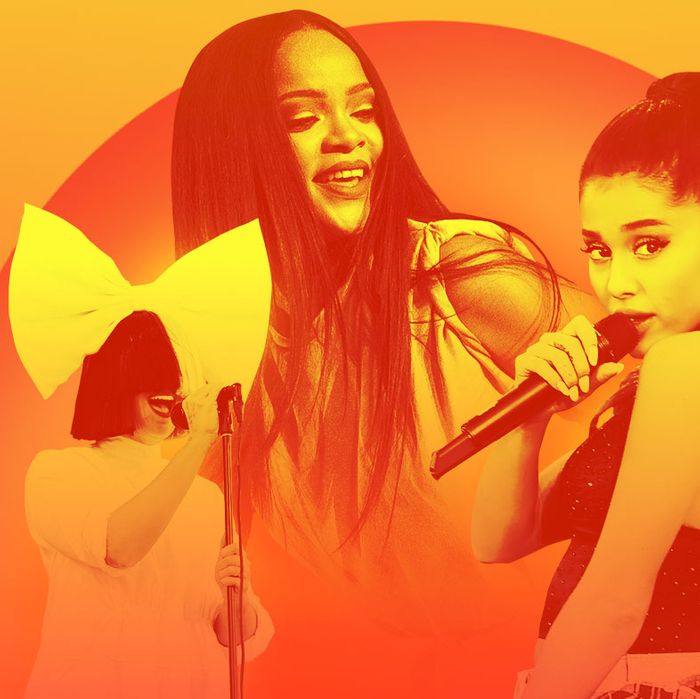 Photo-Illustration: Maya Robinson and Photos by Getty Images
We're trying something different in our search for this year's Song of Summer. From now through August we'll be rounding up the biggest smashes of each month and declaring a winner and four runners-up, while also highlighting five songs to watch over the next month. The criteria is general ubiquity (Billboard charting, video views, airplay), quality, and seasonal appropriateness. The competition will conclude with a declaration of the official Song of Summer and a roundtable discussion about the three-month ride. Desiigner's "Panda" won June; below you'll find July's list and possible August contenders.

WINNER: Calvin Harris ft. Rihanna, "This Is What You Came For"
All it takes is one eye-popping headline to push a song ahead in the Song of Summer competition, and nothing pops like a Taylor Swift name-drop — even if it isn't her actual name. An unknown co-writer named "Nils Sjoberg" raised suspicions about the origins of Calvin Harris and Rihanna's latest bass-rattling earworm, with fans theorizing from the beginning that Nils was Swift. It wasn't until a TMZ "leak" uncovered the truth that Taylor took credit for writing her ex-boyfriend's biggest hit.
What followed was a bitter tweetstorm from Harris – seemingly mortified to have everyone know the biggest pop star in the world ghostwrote his song – and Taylor ultimately dropping the psudonym. Of course, all this controversy only bolstered the song's chart performance: "This Is What You Came For" has risen to No. 3, leapfrogging our June winner, Desiinger's "Panda" (which has dropped to No. 9). Taylor Swift has never had a Song of Summer as an artist, but, by pulling a reverse Sia, she may have just finessed one. — Dee Lockett

RUNNERS-UP
Drake ft. Wizkid and Kyla, "One Dance"
Much like Drake's previous hit "Just Hold On, We're Going Home," his "One Dance" owes its success to its simplicity. Drake does more by doing less: a few lyrics revolving around romance and relaxation, all sung in a transparent, karaoke-friendly voice, provide the core of the song, while the featured artists (Majid Jordan then, Wizkid and Kyla now) provide some measure of fire, color, and flavor in the bridge. Served at a bracing but not breakneck tempo, the blend proves inarguably fresh: That's why this love song has become as beloved as air conditioning during a summer of fire and hate. — Frank Guan
Sia ft. Sean Paul, "Cheap Thrills"
Maybe it was the sound of Jamaican culture being exploited by a bunch of frauds all over the radio that brought Sean Paul back to life, but for the first time in ten years, he's got a No. 1 hit. With Sia! Last month we told you their remix of "Cheap Thrills" would be one to watch in July; it has now ended Drake's ten-week streak at No. 1 for the top spot. It's Sia's first No. 1 as an artist (she previously went there for writing Rihanna's "Diamonds"). The original, a blend of Top 40 pop and Caribbean influence written for Rihanna, was spring-appropriate, but with the addition of Sean Paul, it's summer flames – an anthem for carefree partying on a budget. — DL

Chainsmokers ft. Daya, "Don't Let Me Down"
It's hard to believe the EDM duo memed to death for 2014's half-serious "Kanye" and even less-serious "#Selfie" have already recovered enough to have a breakthrough year, but that's been their trajectory. They've yet to release an album proper – too busy instead churning out hit after hit ("New York City," Roses," Inside Out").
Unsurprisingly, the one that's stuck the most with casual fans is also arguably their most formulaic: "Don't Let Me Down," a straightforward trap-pop song propelled by a young female voice (Daya), works for all the reasons you think it would. It's harmless (no blunt beat drops, abrasive production, or anything to make it clash with the rest of what's on the radio), accessible, and designed for pool-party playlists. That's why it's reached No. 3 on the Hot 100 and is still hanging out in the Top 5. — DL

Ariana Grande, "Into You"
Even if you take the doughnut-licking incident into account, it's hard not to believe in Ariana Grande's enormous good fortune. It's not just the youth and beauty and fame and wealth. She's also in possession of a voice that actually sounds like what a young beautiful person being interviewed after winning a Powerball jackpot feels. Her best songs manage to transmit this feeling to the listener, and with its coy disco synths joined to an understated but propulsive beat before being topped off by an ecstatic chorus, "Into You" is clearly one of her best. – FG

AUGUST CONTENDERS
Katy Perry, "Rise"
Somewhere in Middle America exists a lab where Perry, her murderer's row of mad scientists (see: Max Martin), and the Olympic Committee work tirelessly. Their latest task: alchemize a song that can score an entire month's worth of elite athleticism. It's a Herculean undertaking, but one that Katy Perry was seemingly manufactured to deliver on demand.
Enter "Rise," the melodramatic golden anthem selected for NBC's wall-to-wall coverage of the Rio Olympics – a song so empowered you can almost envision Perry single-handedly leading America to victory, torch in hand. It debuted at No. 11 on the Hot 100 as the best-selling single of that week, giving Perry her third-highest debut to date. And because it'll get nonstop, primetime play throughout August – and on the rest of Hillary Clinton's campaign trail – that's only the beginning of this song's lifespan. Perry says it herself: "This is no mistake, no accident." So don't be surprised when it rises to No. 1, even if the song feels more like a bronze finish. — DL

twenty one pilots, "Ride"
The summer of 2014 gave us Magic!'s upbeat, reggae-appropriating "Rude"; now the summer of 2016 is giving us twenty one pilots's upbeat, reggae-appropriating "Ride." The similarities abound, right down to the success of the songs: "Ride" has now been on the Billboard Hot 100 for more than four months, and last week jumped from No. 8 to No. 6. No one said a Song of Summer needs to break new ground, meaning the sustained — and rising — success of "Ride" makes it a sneaky if uninspired dark horse this season. — Neil Janowitz

Britney Spears ft. G-Eazy, "Make Me …"
Like Perry, Britney staged her big play for Song of Summer in the final weeks of July, meaning she's banking on seasonal crossover. Unlike Perry's "Rise," though, "Make Me" is an album single, designed to generate the earliest of buzz for #B9. It's also a summer sizzler, dripping in sex-positive energy and an explosive hook. Did it really need an assist from G-Eazy? Not especially, but Britney's not above charity work, and G-Eazy's had a Top 10 hit of his own this year. "Make Me" debuted at a respectable No. 17 and with a video set to premiere in the near future (plus a likely live debut at the VMAs, if they're smart), it'll easily climb from there next month. – DL

Flume ft. Kai, "Never Be Like You"
Australian producer Flume's a sharp beatmaker on the rise; his new album Skin sees him crafting inventive sounds for everyone from Raekwon to Beck. Skin's lead single "Never Be Like You" floats on a reedy vocal from Toronto singer Kai about wrecking some poor boy's life through cheating. He's gone by the time the song starts, and she's in a bad way selling the age-old "the other guy doesn't mean anything to me" line. It works because she owns both her recklessness and her vulnerability. It slaps because Flume swings from twinkling keys to lumbering trap underfoot, giving the song a sweetness its message doesn't seem to deserve. — CJ
French Montana ft. Kodak Black, "Lockjaw"
It's a given that summer songs have to sound heated, but they also need to offer relief from overheating. There are songs that ice the listener out before releasing the heat and songs that sweat the listener first and save the frost for later. Then there's a song like "Lockjaw," which brings both at once.
In the last year or two the producer Ben Billions, closely tied to The Weeknd, has quietly built a formidable catalogue of forceful rap hits. Here he pairs high, ever-fading synths reminiscent of evaporating sweat with urgent, punching bass drums, creating the perfect environment for veteran French and new kid Kodak to trade chilled-out bars about criminal high life, police heat, and the side effects of the drugs they take to keep cool. It's breezy precisely because it's a hell of a rush. – FG