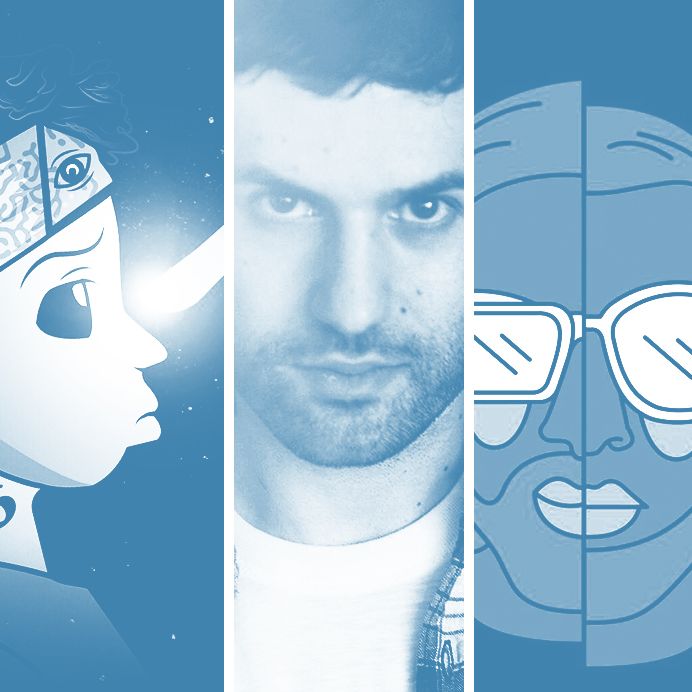 This week, Vulture is providing Summer Selections: picks for the best beach-worthy books, comics, music, and podcasts of the past 18 months, as chosen by creators of that entertainment. Today we're highlighting songs and albums; here's our panel:
A-TRAK
A-Trak, a.k.a. Alain Macklovitch, is a Grammy-nominated DJ and producer, owner of the label Fool's Gold, and half of the duo Duck Sauce, along with Armand Van Helden. He's collaborated with Kanye West, Danny Brown, Kid Cudi, and Chromeo, which includes his older brother David.
GRETA KLINE
Kline is singer, guitarist, and songwriter for New York City–based indie-rock band Frankie Cosmos. In April 2016, she released her second studio album, Next Thing.
YG
YG, a.k.a. Keenon Jackson, is a rapper from Compton whose latest album, Still Brazy, features collaborations with Drake, Lil Wayne, Ty Dolla $ign and many others. It debuted at No. 6 on the Billboard 200. He's on tour this summer with G-Eazy.
THE PICKS (ARRANGED ALPHABETICALLY:)
333 by Leaf
She's an artist signed to my label — a really amazingly creative rapper, singer, producer, and fashion designer in New York, and she just turned 21. We're releasing her debut album. To me she represents a new generation that is aware that they can pretty much do anything. I really love the way that she takes control of her projects. – A-Trak
"Break" by Kero Kero Bonito
They're one of my new favorite bands. The video for this song is so good. It's the singer, Sarah Midori Perry, sitting in a bunch of different public places, completely still and holding a drink, like a statue, as everyone's walking by. It's a funny song and it's got a good message — take a break once in a while and don't work yourself too hard, which is a good reminder for the summer. —Kline
"Disciples" by Tame Impala
This is my favorite track from their newest record, Currents. It has an amazing chord progression, vocal parts, and drums; it's upbeat and so fun to listen to. The production is just crazy — there's this click halfway through the song where suddenly the sound changes. When we're on tour, we put that on in the car first thing every day. It remained the song that can get everyone in a good mood, which is difficult task in a four-piece band. —Kline
"How Does It Feel" by Kamaiyah
She's from the Bay [Oakland]. She got an album coming, her own little style — she got cold-ass melodies. Ain't too many feminists putting out hard shit that's moving the culture. She's one of them. —YG
Institution by Kodak Black
Oh man, he's a young dude. I know all the stuff he talking about. We've been through similar things and all that. My DJ was playing this shit. He's getting me and my homies turnt. —YG
Le Monde Chico by PNL
I grew up in Montreal speaking French, so I've been aware of French rap since I was a teenager in the '90s. PNL are this duo of brothers who put out a project that turned a lot of heads in France. Sonically, it sounds a lot more like current hip-hop in the sense that it's Auto-Tune heavy, like a French Montana project. There's something really appealing about the whole project because people know very little about these guys. It's independently released and it went to No. 1 in France. No one knows who makes their videos, who funds it, who makes their beats. They just got the cover of The Fader and barely did an interview for that. That's really alluring, but then the music itself is just great, too. —A-Trak
"Lean" by Blonder
Blonder is a new band fronted by my friend Constantine. This is their first single. There's really not a lot of info out there about them, so I don't know how much I can say — I think he's trying to remain pretty mysterious. Watching them play this was so moving. It was that feeling of like wanting to dance and wanting to cry at the same time. When it goes to that chorus, your heart stops for a second. —Kline
"Lockjaw (ft. Kodak Black)" by French Montana
Kodak Black is one of the most interesting and appealing new voices in rap. He's a little kid, like 19, from Florida, but he doesn't really sound like the rest of current Southern rap. He reminds me more of like Lil Wayne ten years ago. It's one of the coolest songs I've heard recently, very hypnotic, and people will be listening to it a lot over the summer.  —A-Trak
"On My Own" by Whitney
I put in my favorite Whitney song because that's the album [2016's Light Upon the Lake] I've been listening to a lot recently. It's the track that you put on when you get home from a really fun day and get a little more serious. It's really pretty, with a chill feeling. —Kline
"Only 1" ft. Nathaniel S. Lewis, by the Ashton Shuffle
I wanted to pick a house track to reflect my DJing. Ashton Shuffle are an Australian duo of house producers and they made this song 'Only 1,' which reminds me of British soulful house. Definitely appropriate to listen to next to a pool. It came out this year, but it has that timeless aspect I really love. House music with a soulful influence has been really popular all over the world in the last year or two, after Disclosure opened those doors. This fits into that lane but they do it their way. —A-Trak
"Parallel Lines Feat. Phantogram" by A-Trak
This is the single I have out with Phantogram. I like to collaborate with artists and bands who I'm a fan of. A lot of DJs collaborate with these top-line singers and you don't always have the personality there. A big part of what I do is just connecting dots between different scenes. I hadn't met them, and they had never done a feature on someone else's record like this, so it was new ground for both of us, but it went really well. They're amazing. —A-Trak
"Pool" by Porches
I watched this album get made over the course of a long period of time and I'm on it in some parts because I live with Aaron [Maine, Porches' frontman and her boyfriend]. I feel like I overlooked how good a lot of the songs on it are because I was hearing them so much. Then a couple weeks ago we played a bunch of shows together, and this song gets you dancing. It would start with only a bass-synth and vocals and when it's blasting, it's the craziest thing. It's a weird song, and beautiful, and is going to be one of my summer jams. —Kline
Project E.T. by Future and DJ Esco
When a Future mixtape comes out, I feel like the whole world stops in their tracks and listens and keeps listening for months. Esco is a DJ from Atlanta that first got known playing in strip clubs and became Future's right-hand man. It's cool that Esco gets a lot of shine and Future is one of the most important voices in hip-hop. He really ushered in a lot of the melodic styles that everybody's been doing for the last years. —A-Trak
Slim 400 and RJ (Note: two separate artists)
They coming up out of L.A. Slim's from Bompton. We come from similar places, so we talking that same type of talk. They got that hot street shit that's moving the culture. If you ain't moving the culture, I can't fuck with you. You gotta look them up, you feel me? —YG
TBA (as-yet-unnamed album) by Danny Brown
Danny takes his time crafting an album because every album is a statement and reflection of where his mind-set is at that point in time. It's rare to see rappers take inspiration from anything like the Talking Heads to Joy Division and then mix that with Detroit history of rap and even techno. And his voice is so spectacular — that shrillness, you recognize it right away. —A-Trak
"That Kind of Girl" by All Dogs
"That Kind of Girl" is kind of a sad song, but it's disguised by this really powerful, upbeat, tough attitude that makes you feel really strong when you listen. Listening to that walking down the street makes me feel like I can take on anything. It's a pump-up song. —Kline
"The Missing (ft. Ryan Tedder and Jaw)" by Cassius
Cassius are a French group from the same generation as Daft Punk. They used to be lumped in with the French house scene but they don't really make house music. It's very funky, soulful. It sounds like if Beck made a yacht-rock song. It's summery, lo-fi, and doesn't sound like anything I've heard. —A-Trak
"Two Phones" by Kevin Gates
I fuck with this because I got two phones for exactly the same shit as his shit for, you feel me? One for the drugs, one for the hos. This real.—YG
Views by Drake
You want to go pull up on a little Tinder, something that'll have her willing to do whatever? Just turn some Drizzy on. My favorite songs are "Controlla" and "Child's Play." You know Drake always come with that different vibe. It's the bomb, man. —YG
"WTF" by Eskimeaux
I have some insight into this song because I was there when [Eskimeaux singer Gabrielle Smith] was writing a lot of it on tour a couple years ago. It's a very relatable feeling of forgetting what it's like to be in a normal relationship because you're on tour, trying to remember what it's like it at home — but it's also a really fun party, dance-y song! —Kline