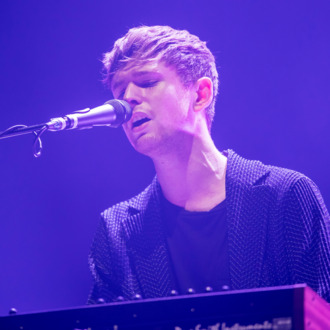 As Spotify figures out how to rival Apple Music without actually becoming Apple Music, the streaming service has caved just a little. They've launched two new radio shows, "Secret Genius" and "AM/PM," both of which feel and sound a lot like Apple Music's Beats 1 Radio in that they're artist-led, exclusive, and super British. Beats 1, of course, originated as a derivative of BBC Radio 1, even snatching Zane Lowe from across the pond. But it has since evolved to include buzzy shows hosted by the likes of Drake, Pharrell, Vampire Weekend's Ezra Koenig, and more, all premiering songs, interviewing other artists, and promoting the hell out of Apple Music. Spotify will see Apple Music's Drake and raise them James Blake, who is one of the first artists featured on "Secret Genius," a show dedicated to spilling industry tea.
Like that one time Drake attempted to finagle one of Blake's beats for "0 to 100/The Catch Up." "I only sent it as a collaborative idea, not to be sampled on a record," he explains. So Blake rejected Drake (and all that money) on principle, which is why the version featuring Blake's vocals on the back half was never officially released. "Just because someone has an impressive amount of clout and a global platform, I don't give a shit about that," he says. "I just want to make good music with people. And it was good music. But just ask me." You can also hear Blake talking about the secret genius of Beyoncé, which is apparently coming in when a song's half-cooked and unknowingly promoting your album for free.
"AM/PM," on the other hand, will have artists — currently Tinie Tempah, Jean Michel Jarre, Wolf Alice, and Terry Hall — talking about what they listen to before and after their creative process. "Secret Genius" also features Ed Drewett and Nick Van Eede. Technically, this is Spotify's second attempt at radio, after dropping their lukewarm In Residence series last year. Spotify also recently hired Lady Gaga's former manager Troy Carter to secure those artist exclusives Apple Music and Tidal bank on, meaning Spotify's just one Taylor Swift coup away from becoming as indistinguishable as the rest of music streaming.