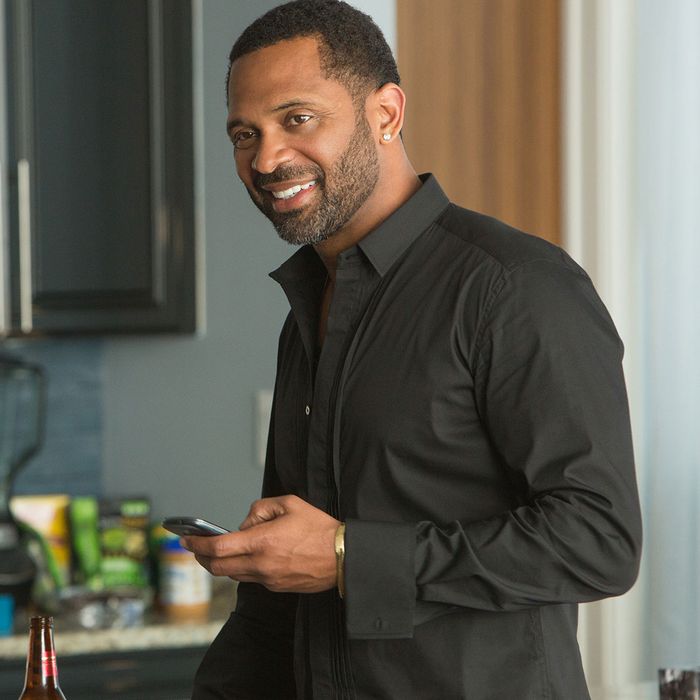 Mike Epps as Uncle Julius.
Photo: Quantrell D. Colbert/Starz Entertainment, LLC
Mike Epps really put Survivor's Remorse in a pickle. Or perhaps they just overthought the whole issue of what to do when their ensemble ace-in-the-hole made haste for ABC's Uncle Buck reboot. You'd be hard-pressed to find fans that welcomed last year's grim finale, which faded away with Epps' stoner-sage Uncle Julius on death's door after getting T-boned by an oncoming truck. And it was hardly a shrewd way of getting new converts who'd heard about the series' cunning marriage of cutting cultural satire and edgy family sitcom to stick around. To put it in terms Julius himself might appreciate, the choice to kill him off was a buzzkill.
Supposing we can agree there's blame to go around, the real cliffhanger wasn't whether Uncle J. would live to see another day, but how premium cable's most refreshing half-hour would rebound (no pun intended) from its one significant storytelling foul (okay, that one was). It's a testament to creator Mike O'Malley, along with his cast and crew, that "The Night of the Crash" picks up as well as any season premiere could.
A few minutes in, Reggie and Missy reconcile the irony of Black Friday overlapping with Georgia's Robert E. Lee Day mere moments after he climaxed inside her. (And, we can assume, conceived a baby — one for one and all.) Later, Cassie and Chen (welcome back, Robert Wu!) share an intimate, introspective conversation about the pressure to remain pious on behalf of a secular soul when all you want to do is feel like hell. And this being Survivor's Remorse, a passing reference to M-Chuck's "sizeable" lesbianism nests its way inside their exchange.
M-Chuck's sexuality comes up quite a bit in "The Night of the Crash," cannily timed no doubt to coincide with this election season. Survivor's Remorse has had no reservations about using the populist appeal of sports as a smokescreen. Its mission is to make you laugh and feel like part of the Calloway clan while considering its politics of inclusion. In that respect, O'Malley and his team battle back a bit in this premiere, relying heavily on rich performances from Tichina Arnold and RonReaco Lee to get them through the melodrama. Arnold, who's been worthy of an Emmy nomination dating back to Cassie's red-carpet monologue about switches and Hot Wheels tracks in season one, leads by example with a relatable bipolarity between righteous anger and contemplative regret. Lee, meanwhile, is powerfully articulating Reggie's point to Cam about the "staggering" amount of money his cousin selflessly meted out for those he loves. His realism drives home the emotion that's less convincingly felt when each of the Calloways (and Allison, Cam's girlfriend who witnessed the accident) takes a turn blaming themselves for the random series of events that led to Julius's passing. (Or, as poor hospital resident Christine might put it, "perishing.")
It certainly resonates more than Chris Bauer's newly shorn-headed Jimmy distilling life and death down to the old axiom, "Fuckin' life, huh? Everything's great, till it ain't." But as Cam observes before identifying the body, people say weird shit and act on delirious impulses when this kind of shock sets in. Kudos for making a point to illustrate how, for every stunned loved one processing the worst possible news, there's the necessary evil of interacting with unrelated parties whose awkwardness overwhelms their humanity. Christine can get a pass, but as for the clueless kid requesting a pic with Cam over Julius's literal dead body, his colleague is right when he advises him, "Kill yourself."
Let's consider the tightrope that "Crash" needed to traverse without much need for a safety net, and look forward to Survivor's Remorse climbing its way back to the razor-sharp pleasure it's been until now. As for M-Chuck and Cam, be thankful that really was Allison's car Cam lit on fire, rather than the next-level horror of a southern greeting from the Klu Klux Klan.
Apart from all that:
If you're looking for a primer, I recommend this article.
Does M-Chuck going to college spell another character further removed? Uh-oh.
Of course the last song Julius got down to was Cameo's "Word Up."
Cam isn't center stage tonight, but Jessie T. Usher does nice work. It's almost enough to make us forget about Independence Day: Resurgence.
Why wasn't Survivor's Remorse more of an Emmy force?
I guess I don't really have to ask that question.
I know it's a lead role and all, Mike Epps, but Uncle Buck? Seriously?
Yeah, I'd probably give back my in-residence elevator for a not-dead uncle, too.
Missy and Reggie get freaky.
Was Usher sporting a new tattoo?
More Chen, please. Always.