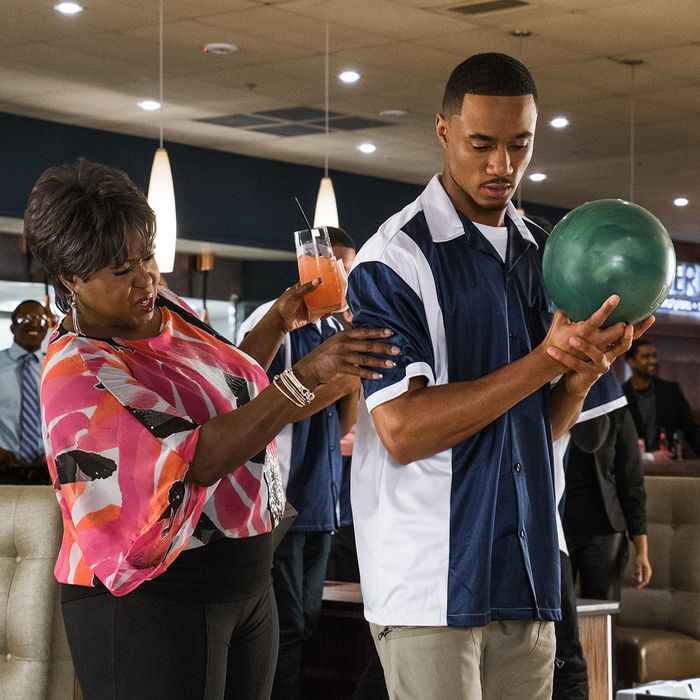 Jesse T. Usher as Cam.
Photo: Tina Rowden/Starz
For those keeping score, between the Power premiere a couple weeks back and tonight's episode of Survivor's Remorse, no less than two priests have been depicted on Starz's Sunday slate as either heroin dealers or casual cocaine abusers. The intention in both cases was satire (though ironically, it was the drama, Power, that cast stand-up comedian Jim Norton as its man of God), though there's also something subversive about presenting African-American ensembles as essentially agnostic, or at least questioning of faith. Based on what's typically offered, black families in fiction are believers, a stereotype that culturally compartmentalizes more than it reflects our nation's growing secularity.
Survivor's Remorse rarely leaves an accepted notion unchallenged, and certainly not its characters' relationship to the church, beginning with the first season's epic Calloways-versus-congregation showdown at a gay-unfriendly parish. That memorable sequence, which really laid the gauntlet for the show's identity, has been referenced more than once already in season three, which endured some post-Mike Epps growing pains in "Night of the Crash." But just as quickly, "The Ritual" gets a handle on its cast-member exit, much like Cassie, Cam, M-Chuck and Reggie realize they need to send Uncle Julius off in style with Montell Jordan, gin and juice. Now if only Cam knew that his late mentor's Prayer for Peace card (a.k.a. "St. El Choppo") is less a sign of spiritual awakening than symbol of hedonism. But alas, discovering that the car accident was Julius's fault is probably enough to process for one funereal stretch.
Reggie, meanwhile, has to reconcile the demands of flying in Pookie, T-Lo, and all his uncle's ne'er do well friends from Boston without suppressing his own need to grieve. Like Cassie, he's taken the blunt and no-nonsense approach to burial planning, but he's also caught between wanting to keep busy and needing to slow down and feel. It's all the stuff of Very Special Moments: Reggie and Cassie both seem primed to spend the episode's first 25 minutes poker-faced before unraveling as Julius gets eulogized and laid to rest. Instead, in one simple scene midway through "The Ritual," Reggie and Missy work through a cycle of emotion with communication and consolation. (How can you not hope that last week's impromptu doggystyle sesh leads to a little mini-Reggie or Missy running around?) And with Chen's support (yay, Chen!), Cassie articulates her hopelessness and ultimately helps everyone else celebrate her brother's life in whatever way feels right.
And as Jessie T. Usher gets ever more comfortable within Cam's skin and the rhythms of the show, he delivers when called upon. Sure, being moved by his words and tears from the pulpit calls for some suspension of disbelief (i.e. putting out of one's mind that Cam is welling up over a character who was written off so his portrayer could try to be a star at ABC), but he also pays fair tribute to Julius, a man who epitomized the kind of father figure that often goes unsung amid discussions about boys from broken homes. If nothing else, we can all be thankful Chen didn't rise and regale everyone with proverbs about removing mirrors and taking gradual steps toward enlightenment. Even if, in their own way — and as summed up by Missy when she assured Reggie, "It'll be fun again, just not now, — the Calloways come together around a similar philosophy.
Oh, that Chen. He's comic relief without being crude. He's somehow manly enough for a woman like Cassie, but still a total weenie. He and his sweetheart might be television's most spectacular and unconventional couple. However, it seems M-Chuck might have an unexpected suitor in the form of Christine, the spastic doctoral resident who delivered the news of Julius' "perishing" in the most regrettable manner imaginable. She shows up at the Calloways' doorstep, strokes M-Chuck's hair, holds her hand for a beat longer than would be customary, and expresses her personal anguish over what happened at the hospital. Not to mention, we catch a quick glance of her at the funeral. M-Chuck could certainly use a doting love interest, but imagine the un-P.C. possibilities of both mother and daughter Calloway dating Asian partners of differing sexual orientation under the same roof. If there's any show riding high enough to step onto that tightrope, it's Survivor's Remorse. Either way, let's just hope that M-Chuck still considers going back to school — she asks all the right questions about worms and corpses, but she could use some brushing up on her facts about Tuskegee and STDs.
Apart From All That:
One for the sports fans (and not coincidentally, from noted Celtics fan/show creator Mike O'Malley): "We're playing the Knicks, so no worries if he does."
Oh, if only all athletes were as grounded as Cam.
Then again, if only more reporters weren't as insensitive as the guy who asks about Julius' divine intervention in Cam's game.
Chen loves silly putty.
The Calloways' lawyer (investigator?) loves Edible Arrangements. And weed.
I avoid Entourage comparisons, but could Squeeze be their Dom?
"This glass got that good clink." Cassie's the best.
Who needs St. Francis when you're already a "45-year-old straight black male with no kids?"
Epps will be missed.