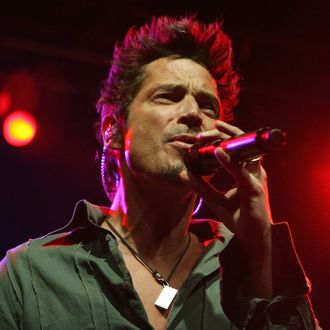 Better late than never.
Photo: Jo Hale/Getty Images
Attention Seattle: The shortest grunge union of the early '90s is getting remarried! Temple of the Dog — the supergroup including members of Soundgarden (Chris Cornell) and Pearl Jam (Jeff Ament, Stone Gossard, and Mike McCready), plus drummer Matt Cameron (who played for both) — are reuniting for the 25th anniversary of their debut album. And they're actually gonna tour it this time! Like most '90s relics, Temple of the Dog burned out quick; the band only ever put out the one self-titled album in 1991, but never toured. In memory of what could've been, Temple of the Dog would like to see if they've still got it. "We wanted to do the one thing we never got to do … play shows and see what it feels like to be the band that we walked away from 25 years ago," Chris Cornell said in a statement. And if it doesn't work out, well, hey, it's only five shows. To sweeten the deal, they're reissuing their lone album on September 30 for all you nostalgics.