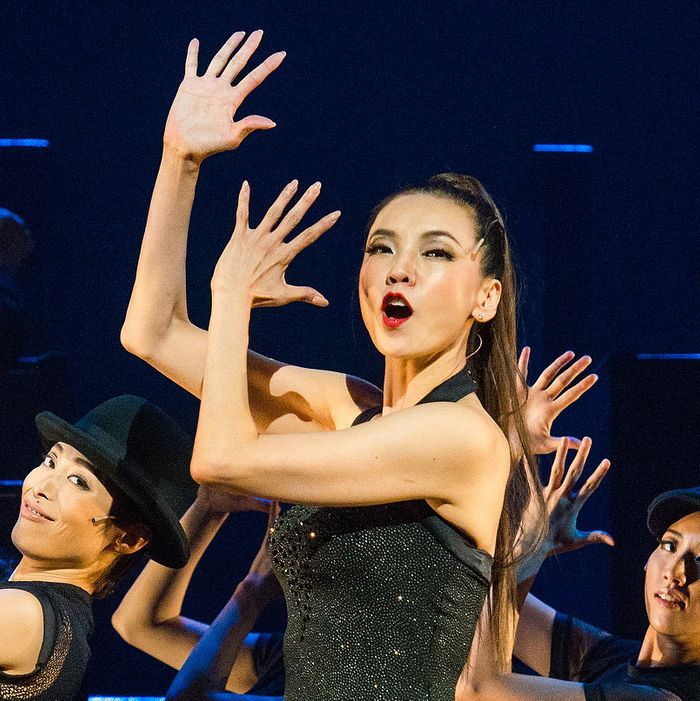 Yoka Wao (foreground) in the Takarazuka Revue's Chicago.
Photo: Stephanie Berger.
Whenever I'd hear critics describe musical theater as one of the few truly American art forms, I would think, well, at least one of those words is right. It's a form. I suppose it is also, at its rare best, an art, but American it never fully was, except in having, like bastard America itself, plenty of European and African roots. Recently, though, I've been changing my mind, and not just because most non-American musicals are so wretched. As the operetta format and literary tone of the so-called Golden Age continue to recede in favor of more domestic subjects and more vernacular styles, musicals do begin to seem more intrinsically local, a phenomenon that may be playing a role in the popularity of Hamilton. (It is, after all, subtitled An American Musical.) But what has now really clinched the case for the Americanness of the form, for me, is the bizarre hall-of-mirrors production of Chicago that opened last night at the Lincoln Center Festival. This Chicago, produced by a 103-year-old, all-female Japanese troupe called the Takarazuka Revue, is so minutely faithful to the Broadway version playing a mile away at the Ambassador that its complete cluelessness left me feeling shocked and a bit demented. How could something so intensely familiar, copied so precisely, turn out so utterly foreign?
You will hardly have been able to avoid knowing that Chicago is a musical, based on a 1926 play by Maurine Dallas Watkins, about two murderesses turning a miscarriage of justice into a form of pop entertainment. (Watkins based the story on trials she covered as a Chicago journalist.) For years Bob Fosse and his wife, Gwen Verdon, tried to get the musical rights from Watkins, who, having become very religious, refused them. Her heirs proved more practical, though, and the original Broadway production, with songs by John Kander and Fred Ebb and a book by Ebb and Fosse, opened in 1975. In the shadow of A Chorus Line it was only a modest success, but Walter Bobbie's stripped-down revival of 1996, originally starring Bebe Neuwirth and Ann Reinking, has been a monster hit for 20 years, digesting potential problems, like its absurd stunt-casting replacements and the Academy Award–winning movie, without a hiccup. The revival is now the longest-running American musical in Broadway history, and it's not hard to see why. The original Fosse musical staging, interpreted for the revival by Reinking, remains astonishing, and the score is a marvel of laserlike consistency of tone within a wide variety of song forms. Moreover, the bone-deep cynicism of the concept has served as a kind of preservative; if anything, Chicago's portrait of the desperation of no-talent wannabes and slick, demagogic manipulators is more apt than ever.
The Takarazuka production doesn't seem to understand any of that, even as it replicates the revival obsessively. Every stylized hand-flap, every filmy costume, every bit of the (minimal) scenery is identical; even the hairstyles of the leading ladies are strongly reminiscent of Reinking's ponytail and Neuwirth's bob. The local 13-piece band, playing the superb original Ralph Burns orchestrations, is seated in the same configuration as on Broadway. Yet it obviously makes a big difference that all the male roles — the lover who's murdered, the husband who's manipulated, the lawyer who wins the acquittals — are played by women. (Takarazuka was originally founded, by a railroad magnate, as a spectacle to drive train traffic to a resort he built at the Osaka terminus of his line.) These actresses, called otokoyaku, are selected and trained by the Takarazuka school to represent masculine traits onstage, or in this case a Japanese idea of an American idea of masculine traits. Their hair is slicked back, they are made up darker and with bushier eyebrows, they move with a wide, rolling cowboy gait that contradicts the Fosse style and generally looks satirical. Meanwhile, the women trained to play women — the musumeyaku — are correspondingly overfeminized, by American standards. They are very pretty, in a Betty Boop way, and in their attempts at irony project a kind of innocence that is utterly out of place in Chicago. They sing well, even belting when called for, but the songs and especially the dances are mummies of themselves, their guts replaced with formaldehyde.
To be fair, part of the problem is that the show is performed in Japanese, which for an American audience distances and defangs the material. Despite English surtitles, and the occasional familiar word that pops out — "gin," "bunny hug," "Lipschitz" — the coarseness and bite of the lyrics is absent. Surefire lines like "Sophie Tucker will shit, I know / To see her name get billed below / Foxy Roxie Hart" barely get a laugh because the shock of women acquiring male language is obviously mitigated by the Takarazuka concept. (For a taste of the echt American style, check out Verdon and Chita Rivera on the original cast recording, or Ebb himself on the show's demos.) As a result, this Chicago is less about the distortions of celebrity culture than distortions of gender role, and in its utter sexlessness less about power than placation.
That's inside out, but it's admittedly fascinating — never more so than when the musical proper ends and a demented post-show entertainment begins. Called (in giant neon letters) the Takarazuka Encore, this 15-minute spectacle is apparently a traditional dessert to whatever the main company has just been performing and bears no relationship to it. The one offered at Lincoln Center involves — I can hardly believe I'm typing this — showgirls in giant turkey-feather outfits, spangled otokoyaku and musumeyaku tangoing together, a Vegas-style lounge lizard singing "Roxanne," and, eventually, Jun Hatsukaze, a 1961 Takarazuka veteran who at some performances also plays Mama Morton, warbling the 1920s German pop hit "Wenn der weiße Flieder wieder blüht." I left the theater as confused about world culture as I've ever been, and thinking of the great Ebb line, from the song "Razzle Dazzle," that I'd just sort-of heard: "How can they see with sequins in their eyes?"
Chicago is at the David H. Koch Theater through July 24.