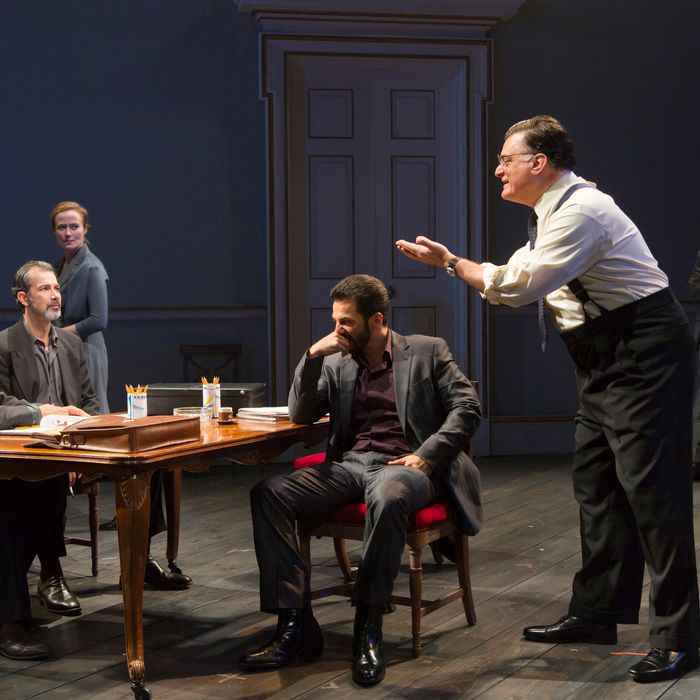 Negotiating in Oslo, at Lincoln Center.
Photo: T Charles Erickson
It's not often I think a three-hour play could profitably be longer, but J. T. Rogers's gripping, big-boned Oslo, which opened last night at Lincoln Center Theater, needs all the meat and muscle it can pack on its frame. It is, generically, a "secret history" drama, which means there's a lot of context to provide: in this case, the long trail of sad events and unheralded personalities that made the 1993 Oslo "accord" between Israel and the Palestinian Liberation Organization such a surprise. The agreement, really a framework for future peace rather than an actual treaty, was negotiated through a back channel almost entirely unknown to the diplomats engaged in the hopeless official process in Washington, London, and elsewhere. Organized by Terje Rød Larsen, a rogue Norwegian sociologist, and his wife, Mona Juul, an official in the Norwegian foreign ministry, it involved nine months of covert meetings in a remote manor house about 60 miles south of the title city. The scheme was based on the audacious proposition that if these enemies, some of them legally forbidden to meet the others, could break bread in dinner-party-sized gatherings rather than huge delegations, if they could get to know one another as people rather than as vessels for hardened positions, they might find a way forward.
The play has a kind of back channel of its own; some years ago, the young daughters of the director, Bartlett Sher, happened to attend school in New York with the daughters of Larsen and Juul, who was by then a Norwegian ambassador to the U.N. Sher had directed Rogers's previous secret-history play, Blood and Gifts, about the covert struggle among world powers over Afghanistan in the 1980s; when he heard Juul and Larsen's story, he connected the couple to the playwright. Perhaps for that reason, Oslo, especially at first, foregrounds them. It is the story of their enthusiasm for the Middle East, their audacity in seeking a way toward peace there, their fumbles, their gambits, their conflict over the meaning of diplomacy. (Juul forces Larsen to promise they will do no more than "facilitate"; he breaks his promise.) Of course, this is also a useful playwriting shortcut, giving us a way to enter the material with the help of our semi-comical Norwegian guides; at times they seem like the most popular docents at an interactive history museum. But as the focus shifts to the Israeli and P.L.O. players, Juul and Larsen are too frequently reduced to interstitial narrators, baldly telling the audience who's who or how much time has passed. It is in these moments (and in the sudden, brief appearance of highly pungent but irrelevant characters in the third act) that I detected the hallmarks of overhasty surgery on the play; what were once longer scenes, perhaps, are now in effect vestigial tails or title cards. I gave up counting the variations on lines like "Two days and nights they worked, almost without stopping."
Sher's staging, remarkably swift and entertaining, keeps Juul and Larsen hovering around the edge of the action even when they are not in it: a nice metaphor for their behind-the-scenes real-life function. But once the Israelis and Palestinians arrive, it's hard to see how the pale couple could do much more. For one thing, the drama among the Middle Easterners is quite a bit less notional than that of the Norwegians; they are fighting for security, for land, for dignity, and (unhelpfully) for the past. Then, too, they are not just characters but characters. Representing the P.L.O. are Ahmed Qurei, the finance minister in exile, suave and tense and unctuous with women, and Hassan Asfour, dour and quiet except when he explodes in vicious rages. Representing Israel, at first, are two "semi-well-dressed" zhlubs, Yair Hirschfeld and Ron Pundak, both economics professors from Haifa. Eventually, they are joined by Uri Savir, the director general of the Israeli foreign ministry, an obnoxiously magnetic Sabra who is half lizard, half steel. Others, including even Shimon Peres, the foreign minister, also appear, though his counterpart, Yasser Arafat, is only present in imitations performed by others.
Played by exacting actors like Anthony Azizi as Qurei and Michael Aronov as Savir, this gallery of types makes for exciting scene work. There is, after all, a lot to chew on: People who at first can barely say hello without defaulting to boilerplate hostilities are soon sharing family histories while consuming case after case of Johnnie Walker. ("You are my first Jew," says Asfour, shaking hands with Hirschfeld after round one. "I hope I was not too stringy," Hirschfeld replies.) Whether these characters are truly drawn is another matter. Rogers says in a program note that some have been excised and some given different roles in the action. The dialogue, in any case, is necessarily his own. Since the events, at least, really happened, we are persuaded to let that pass, though the actual people, many of whom are still alive, may feel differently; what is more problematic for us is that the emphasis on character, which echoes Larsen's theory of diplomacy, makes the actual negotiations seem oddly perfunctory. In outline they are, of course, momentous: We know that the Rose Garden ceremony presided over by President (Bill) Clinton in September 1993 is at stake with each turn of the screw. But the details — border crossings, taxes, even settlers and Jerusalem — aren't themselves dramatizable in this context. They are talking points. Rogers knows he can't build a play from them.
Instead, he keeps returning the action — or, rather, he and Sher do — to the Norwegians, who are enigmatic if a bit underwritten. They are frequently fighting their superiors for permission to keep the back channel open, and frequently using the same words to do so. Luckily they are embodied by Jefferson Mays and Jennifer Ehle, who manage to make something solid out of dialogue that is sometimes a hilarious kaleidoscope of evasive diplomatic phrases. (After Asfour goes off on another tirade, Mays gets both a laugh and a pang out of the audience as he says, "And, again, so appreciated.") Of necessity, Ehle is even subtler, and it's a sign of her exquisite taste that the highlights of her performance include several lines she whispers to others onstage. We see their behavior change, but what has she said? As with the real history of the Oslo negotiations, we will never know.
What we do know is what has happened in the years since, much of it betraying the joyful climax of the play's events. That not-so-secret history is what makes Rogers's play feel excruciatingly necessary and timely more than two decades later. The kind of diplomacy Larsen engineered, based on shared tastes for waffles and a willingness to get drunk together, reflects an idea of humanity that, while acknowledging grave differences — whom do you make peace with if not your enemies? — assumes greater similarities. Politics is merely an outer expression of personal character. ("I can't give up the idea that suddenly everything will change and my stomach will be my friend," says one diplomat, during a bout of indigestion. "So you see I am dreaming of two peace plans simultaneously.") But the intractable rages we see blistering Israel and Palestine today, and even much closer to home, suggest that Larsen's humanistic approach fares no better in the long run than Kissingerian realpolitik. Whether a play like Oslo is a comedy or a tragedy may depend only on where in the story the author chooses to bring the curtain down.
Oslo is at the Mitzi E. Newhouse Theater through August 28.