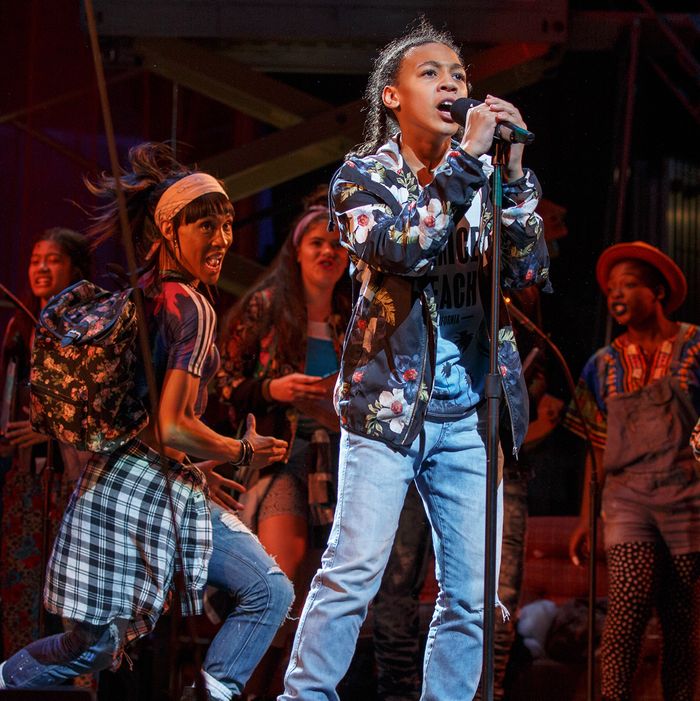 From Elizabeth Swados's Runaways, at City Center.
Photo: Joan Marcus
The Encores! Off-Center series, which opened its fourth season last night, is meant to do for Off Broadway in summer what the main Encores! season does for Broadway in spring: recall to our attention worthy musicals that were underappreciated in their time or are on the verge of oblivion now. Runaways, Elizabeth Swados's revue about the plight of street kids, is both an unorthodox and a perfect choice for the series. Unorthodox because it had an eight-month Broadway run in 1978 — though it did begin Off Broadway, at the Public Theater, earlier that year. And perfect because it was indeed underappreciated and largely forgotten. Many of the original production's reviews condescended to its earnestness, perhaps because Swados was 27 and female and outside the songwriting mainstream. What those reviews missed was the necessity of her outsiderness in developing and presenting outsider subject matter. In this, Runaways was part of a movement that in the 1970s achieved modest commercial traction: works like The Me Nobody Knows (1970), for colored girls who have considered suicide/when the rainbow is enuf (1976), and Working (1978). For a while these first-person-plural tone poems and dystopian, underclass vaudevilles seemed to represent the future of the form. But the form went another way, in part the result of another Public Theater musical — A Chorus Line — that adapted many of the same presentational techniques while applying megadoses of gloss and spectacle.
Swados's show thus comes at us today as a hard slap from the past. These are not the bucolic runaways of (white) American lore, with their cowlicks and bindles, but abused children, mostly of color, in internal exile, making their nearly hopeless way on city streets or seeking security in orphanages and under the aegis of pimps. (The show might as well have been called Throwaways.) One number has the Brechtian title of "Song of a Child Prostitute." ("Legs open at one and close at seven," sings the 13-year-old character.) A spoken piece called "Spoons," interwoven with a lullaby sung elsewhere onstage, concerns both breakfast cereal and heroin. A monologue performed in American Sign Language includes a litany of lines like this: "It's bad enough that we had to run away in the first place. But we have to die too?"
It's almost too much, even for a 90-minute show, except that Swados, realizing this, does not attempt to build these events into conventional drama. Rather, the show's 32 or so segments of song and speech and poetry stand apart from each other, their stories brought to a quick close and their performers reabsorbed into the ensemble. There is a trade-off, though: Some of the segments are weak, and too many of them follow a predictable arc from ingratiation to shock to cynicism. When one kid, styling himself as a Cecil B. DeMille, shouts out "Hey hey / Who is directing this movie? The soundtrack is all wrong / It's too gloomy," it comes as a relief. He is thinking what we are.
There is relief, too, in the boisterous, full-cast uptempo numbers, filled with terrific contextual dance (by Ani Taj) and the kind of high spirits enhanced by all that seriousness surrounding them. Still, Swados's seriousness is so capital-S it sometimes suggests a false equivalence between aural parsimony and moral depth. (Too many songs are bitonal, or sometimes literally monotonous.) Clearly this is deliberate: a form of respect she felt she had to pay to the difficult lives of the kids she worked with to create the show in the first place. But the attempt to represent their genuine expression while at the same time applying enough polish to focus an audience's attention leaves her caught too often in a weird middle ground. Some lyrics are set verbatim, in the mis-stressed manner of pop, which seems fair enough. A few proto-hip-hop passages are effective. But pop's purpleness ("The liquor smells like love on his breath") is off-putting here. And though the events related in the stories have the ring of sad authenticity about them, the casting of young actors to tell them sometimes does not.
You would think that authenticity problem would only get worse with the Off-Center production, whose cast of 25 New York City schoolchildren, ages 12 to 19, comes largely from performance academies, sometimes bearing previous Broadway credits. (Many of the Playbill bios thank agents.) One performer is the daughter of original cast member Trini Alvarado; one the daughter of outgoing Off-Center artistic director Jeanine Tesori. Both happen to be excellent, but you could hardly say they or any of the others were outsiders to the theater. Their diction alone puts many professional actors to shame. (As usual at Off-Center, Chris Fenwick's musical direction is superb.) Oddly, though, this doesn't seem to matter; the cast is so talented and, under the compelling direction of Sam Pinkleton, so focused that it mostly blows the presentational questions out of the water. You do not have much bandwidth left over from absorbing their gifts to wonder, for instance, why gayness never comes up, even though it was then, and remains now, a leading reason teens leave their families. The cast's belief in the material is almost enough to make it believable.
But it does shift the show's meaning somewhat toward the universal. Lines like "we are not strangers" and "the world is an orphanage for grown-ups" now stick out as thematic indicators. Being a runaway, however real it remains at Covenant House, is halfway toward metaphor at City Center, where even garden-variety alienation (or mere theatermania) counts as a rough childhood. I don't think Swados, who died in January, at 64, would have minded; it's hard to complain when the result is so electrifying. Among her last instructions to the production team were: "Make the drums loud!"
Runaways is at City Center through July 9.