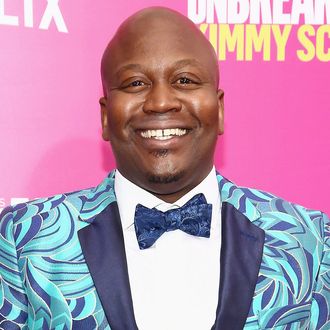 Tituss and Titus have become one.
Photo: Astrid Stawiarz/Getty Images
In the A-plot for this week's episode of Kimmy Schmidt, Titus leads a one-man crusade against New York moving company Franks Express. Meanwhile, Kimmy experiments with a new color of neon backpack, and Jacqueline makes the mistake of mixing white wine with Pokémon Go. Wait, this is the real-life Tituss we're talking about? Wow, the world is weird. Anyway, Burgess is rightfully furious with a moving company, which, according to the actor, demanded that he post a glowing review on Yelp before they came to move his couch. After a tense text exchange, during which the mover called Burgess a "fucking faggot," Burgess took to Twitter, Instagram, and Yelp (a perfect vessel for just this kind of anger) to get sweet, sweet revenge.
Burgess's Yelp review is as follows:
My name is Tituss Burgess. Im an Emmy Nominated Actor for Unbreakable Kimmy Schmidt currently streaming on netflix. Thats besides the point.But watch it. These guys are the absolute most UNPROFESSIONAL workers I have EVER DEALT WITH. I called this man this morning. We chatted. He said he could move my couch at 1pm which was the time I requested. 1:30 still no movers. I called back and he says I will give you a discount…I said ok. He says but you have to post a review on yelp. I said when you complete the job i will complete the review. FOR THE FOLLOWING I HAVE THE ENTIRE TEXT EXCHANGE SAVED. He texts saying no review no show. This went on for about 45 minutes. It Completely threw my entire day. I called him about 9 times but he wouldnt pick up but he somehow was capable of texting. DO NOT USE THIS COMPANY. Im going to post this to twitter to my instagram to my facebook. You messed with the wrong Queen.
#franksexpress #Igotcha #lizaminelli #Iamgonnamakeavideoaboutyoubecauseofthedeepangerif­eel #DONOTTHREATENMEIWILLWIN
The "#lizaminelli" is the real sign that he is not to be underestimated.