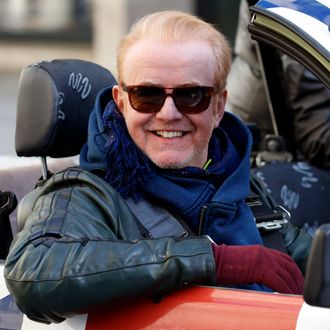 Photo: Alex Huckle/2016 GC Images
On Monday the oft-bereaved BBC motor series Top Gear hit another bump in the road: Host Chris Evans is leaving the show. Evans announced his departure over Twitter: "Gave it my best shot but sometimes that's not enough. The team are beyond brilliant, I wish them all the best."
Fans of the series may recall that for years the program was hosted by Jeremy Clarkson, James May, and Richard Hammond, until a physical altercation between Clarkson and a producer led to the three leaving in 2015. Evans joined last summer and co-hosted with Friends' Matt LeBlanc, but his one season on the show received low ratings and rumors of tensions between the two hosts grew rampant. Reports in today's Guardian also allege that Evans may be called into police questioning over sexual harassment allegations that date back to the '90s. 
Evans will continue his popular BBC radio show. His replacement hasn't yet been announced.

This post has been updated throughout.