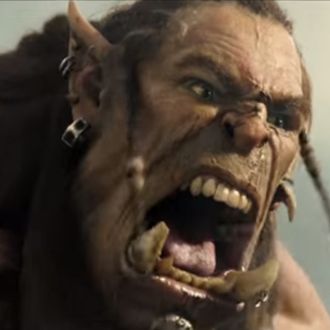 Photo: Universal Pictures/YouTube
This Thursday, a lawsuit was filed in Florida federal court against Universal Pictures. The plaintiff? One Charlie Fitzgerald III, who received an unsolicited text from the studio, inviting Fitzgerald and fellow moviegoers to "join the fight" to "lead the Horde or Alliance to Victory," with a link to Warcraft's Fandango page. Fitzgerald presumably has no vested interest in the human-orc conflict, but he's absolutely willing to lead the charge in the War Against Spam. Fitzgerald has brought a proposed class action suit against Universal, claiming that the studio violated the Telephone Consumer Protection Act  by sending him unsolicited text messages. The class, if it goes forward, will include anyone who received one or more unsolicited promotional texts from Universal Pictures between June 24, 2012, and the certification of the class. Fitzgerald is seeking $500 in damages per violation for himself and each class member, an amount that will triple if the violation is found to be willful, not negligent. As of this writing, Warcraft has grossed $413 million worldwide, blowing past Prince of Persia: The Sands of Time to become the highest-grossing big-screen video-game adaptation of all time. All thanks to a bunch of spam. Kidding, kidding.
As of this writing, Universal has yet to respond to the lawsuit.