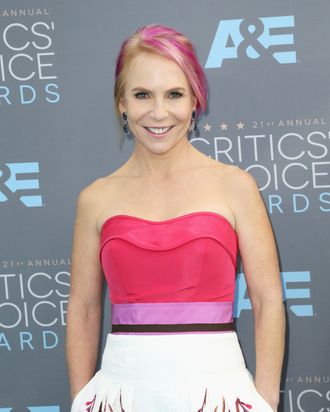 Photo: David Livingston/2016 David Livingston
It's been a long time coming. Veteran TV writer and producer Marti Noxon, who started her career with Buffy the Vampire Slayer and Angel, got her first-ever Emmy nomination in the Best Dramatic Writing category for co-writing the pilot of UnREAL, Lifetime's dark, stinging satire of The Bachelor. Of course, that isn't to say there isn't a bit of attendant drama. "There was about as much drama behind the scenes as ended up on the screen," Noxon told The New Yorker about working with Sarah Gertrude Shapiro, the co-creator and co-writer, who also received her first nomination for the UnREAL pilot. And now? "It's a great reminder that we made something special together," Noxon told Vulture. "I think we're all feeling a little chilled out."
How did you find out?
I'm not going to lie, I had trouble sleeping. I've never even been in the race. I've never had something that might get nominated, so I was, like, I'll just keep writing, I'll pretend like it doesn't matter, and then of course I was online checking. So I wasn't being chill at all.
It's better when people are just honest about that.
I was totally, like, Oh, that's a bummer, because in the main announcements, we were locked out. I was, like, all right, well, go check [online], and of course we were the very last one and they didn't even have a picture from the show, so I was like, Wow, they really didn't expect us to get anything. [Laughs.]
Have you told anyone else the news?
Yeah, I told my brother, who's married to Jenji Kohan, and he was, like, Oh, that's nice. And I was, like, No! That's a big deal! Don't be blasé! I've never done this before! Emmy nominations are just another Wednesday for her.
Yeah, I was surprised to see that you had never been nominated before. While Buffy was a beloved show, it did not get a lot of the Emmy nominations it should have.
I think we got a total of one? And some technical awards. I've worked on a lot of genre shows, and I got to go with Mad Men and Grey's when I was working on those shows as a consulting producer, but I'm a writer, first and foremost, and that feels really good. While in the big picture it doesn't really matter, recognition from your peers is a nice thing.
You were nominated for the pilot episode. Was it difficult writing that episode, introducing the characters and the premise? How was it writing that episode with Sarah?
It was difficult in terms of finding the right balance between the characters and the contestants. And I think people know now that we wrote a script and then the whole pilot-production process ended up in a situation where we had to reshoot the whole thing, and the great thing was that we were actually asked to go even darker.
There was a New Yorker profile of Sarah Gertrude Shapiro, and it sounded like the two of you have had a rocky relationship. Is it strange to then be nominated with her for this Emmy?
[Laughs.] Well, I think it's a great reminder that we made something special together. And when I worked with Barbara Hall back in the old days she used to say, "Success is like Valium." I think we're all feeling a little chilled out.
You're not with the show anymore. Is that sort of bittersweet?
No, I'm still an EP on it, and I may resume a more active role in season two, so we'll see.
I assume you've been watching the season. What do you think of it so far?
You know what? I haven't. I watched the first two episodes, because I was there for those, and then I stopped.
Oh, you quit!
You know, as opposed to, I just can't quit you, I could.
Are you gonna do anything to celebrate tonight?
I'm going to make a chocolate-chip skillet cookie with my daughter. We love Chili's, so we bought those little cast-iron skillets. It's unbelievable. A little vanilla ice cream on that, and, basically, it is better than Valium.