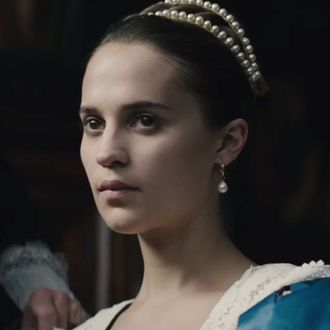 More like, tulip see you later!
Photo: Weinstein Company
What has tulips and sudden change in its release date? This period drama! The Weinstein Company has pushed the release date for the Alicia Vikander period drama Tulip Fever back from July 15 to February 24 of next year — hey, that's just two days before the Oscar ceremony, right when nobody will be paying attention! The film, which also stars Christoph Waltz and Dane DeHaan, was shot back in 2014 and, according to The Hollywood Reporter, has been finished for more than a year. Tulip Fever's move also gives more breathing room between Vikander's other period drama, The Light Between Oceans, which opens September 2, and the Weinstein Company's other summer release, The Founder, which opens August 5.